Back to Blog
March 30, 2022
In Profile: Theo Brooks, Glass Tech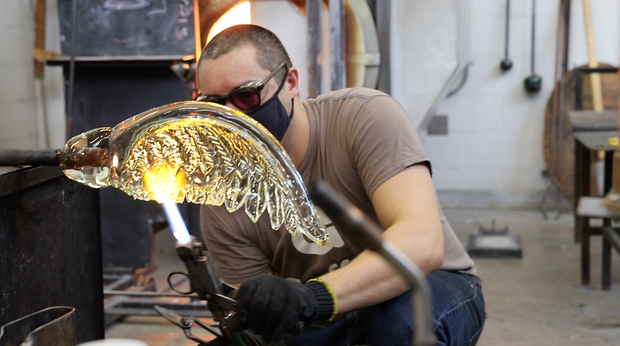 Studio technicians have a special role at the Tyler School of Art and Architecture, keeping the maker spaces well equipped, well stocked with materials, and up to code on safety protocols. Learn about one of Tyler's newest techs, glass artist Theo Brooks.  
What makes your artistic practice unique? 
"I'm originally from London — my dad is English and my mom is from Cyprus, so a lot of what I'm making relates to Cyprus and its history, and it's been a nice way to connect back to my heritage. I could talk about it forever. Reinventing and creating these Neolithic-type pieces is fascinating. It's a country with a really deep history, and having a line to tap into that history is really nice. The area of my focus is around 4,000 years ago, and the Indigenous language of the time wasn't deciphered. So there are a lot of mysterious symbols and unknown ritualistic objects which lets your imagination just goes wild trying to piece it together. In terms of practice — I'm mainly a glassblower/sculptor and coldworker, so I do a lot of post-cutting and grinding on diamond wheels once I finish making pieces in the hotshop. I've been feeding in some new technologies recently too, like 3-D printing. That's where I feel like I'm at right now." 
What initially interested you in glass? 
"It's very physical. It's this magical material. It's moving, it's fluid —there's nothing like it. It's a one-of-a-kind type of material. When I was 18 and first saw it, I was captivated by it. The better you get at working with it, the better you get at controlling the material. Understanding the way to move with the heat and fluidity of the glass makes it special." 
Where did you study? 
"Originally I went to the University of the Creative Arts in Farnham about an hour outside of London. From there, I did a lot of different apprenticeships with a couple different glassblowers in London, Paris, and Wales. That was really nice, and I got to travel with glass. When I was apprenticing, I took a break from my own work and more so helped the artist make their work and learned different styles of glassblowing." 
How did you end up at Tyler? 
"I'd come back around to wanting to work on my own practice again, so I came to the US to complete my MFA from Bowling Green State University in Ohio. I found out about Tyler when I was graduating, and I applied for the job opening. I've been here since September 2021." 
What's the specific role of a Studio Tech? 
"It's a kind of multi-faceted role. It's maintaining the equipment, which is a big part of the job. Looking after the workshop and making sure the furnaces are full of glass and charged. There's an aspect of training people how to use equipment, working closely with the students and helping them problem-solve. Last semester, we had a student who needed help with her thesis work. She'd never hung pieces before so I helped with installation. There are also admin tasks and general studio management. All of this allows me to have studio access so I can continue to do my own work, which is a great trade-off." 
What do you love about Tyler's Glass program? 
"There are so many talented people here. So many of Tyler's faculty are specialized in some form of glassmaking, which makes the program really strong. [Program head] Jessica Julius is an amazing leader and mentor. I've been really lucky to work with her. It's nice working with students in that environment, too. In glassblowing particularly, there's a passing on of skills. You have to train people to help you with your own work. It's the same way I learned through my apprenticeship so I could assist those artists. It's cool to have the same rapport with the students here and see their skills develop." 
The sense of community is something that Tyler's Glass program is known for, regardless of skill level. So many aspects of the craft are things that you really can't do alone, so there's got to be a level of trust between artists. 
"Some of the bigger pieces I work on — they need a team of 4 or 5 people to assist in the making. Relying on other people and in return taking the time to help and teach them is a really unique and gratifying experience. Besides the physical making, the Glass department hosts an array of events and visiting artists that really helps build a community whilst students are here, and for when they leave. 
What is the most challenging part about working with glass? 
"Probably just finding the time to show up in my own practice — the job here is very constant, and some days it's pretty physical. I'm usually working every weekend on my own projects, so I'm really committed to my work at the moment. I had a lot of momentum just coming off my MFA. I want to carry that on, but it can be hard adjusting to a new space, so I'm still learning the program and how things work here. 
Sometimes when I'm working on my own art I still have the thought 'oh I should fix this or that,' like I'm still in tech-mode even when I'm on my time." 
It sounds like glass especially is a practice that you have to be 110% committed to. 
"Yeah, and I am. Glass is such a passionate medium. You have to really love it, because it is tough, and it takes a long time to learn and get good at it. Particularly blown glass. With casting and other mold making, you can get better results faster, but there are still a lot of skills involved." 
If you weren't working at Tyler or as a practicing artist, what would you be doing? Or is this exactly what you would be doing? 
"Glass has been a constant for me. I've become more and more interested in CAD work with glass — particularly 3-D printing. There's an aspect of problem-solving to it that is similar to glass, which I enjoy."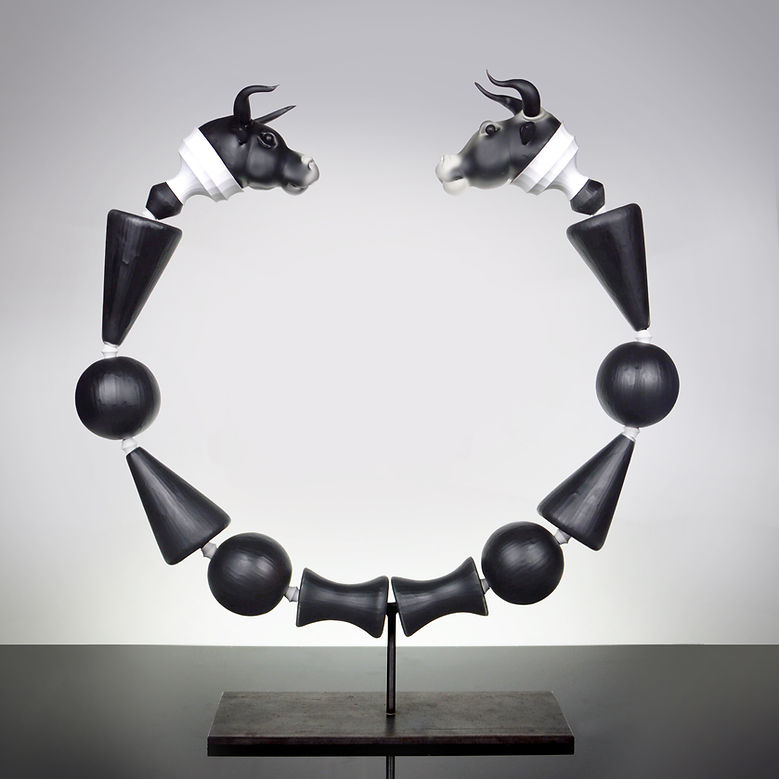 Photos courtesy of Theo Brooks