Back to Blog
May 17, 2022
Adjunct Professor of Landscape Architecture Bess Wellborn-Yates Receives Case Study Initiative Award to Examine Philadelphia's Rail Park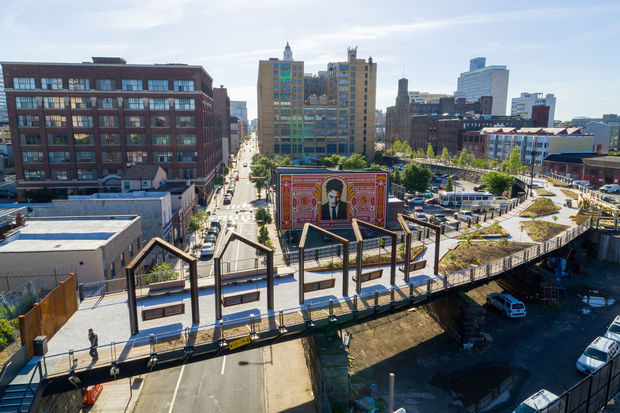 The Landscape Architecture Foundation has recognized Bess Wellborn-Yates, adjunct professor of Landscape Architecture and Horticulture, and Studio Bryan Hanes with a Case Study Initiative Award to further their collaborative work on the Callowhill neighborhood Rail Park. 
These awards pair landscape architecture firms with faculty in accredited institutions of higher education, who are named Research Fellows, to study the landscape performance of a site's design features, and the Rail Park in particular hopes to maintain the historic aspect of the Callowhill neighborhood. 
Case Study Investigation (CSI) is a unique research collaboration and training program for faculty, students, and practitioners. LAF funded faculty-student research teams work with designers to document the impacts of exemplary, high-performing landscape projects. Teams develop methods to quantify the environmental, social, and economic benefits of built projects and produce Case Study Briefs for LAF's Landscape Performance Series. 
The Case Study Investigation (CSI) program allows faculty members to sharpen research skills, build relationships with leading landscape architecture firms, collaborate with peers, and gain exposure in the growing field of landscape performance. 
Studio Bryan Hanes, the Rail Park's original architect, will provide information and history of past plans regarding the Rail Park and similar projects, and then present them to Wellborn-Yates and her academic group. Wellborn-Yates said her group will be "investigating the social, economic, and environmental benefits that the Rail Park provides the Callowhill and adjacent Chinatown and West Poplar neighborhoods as well as Center City.  Through a series of surveys, focus groups, and on-site measurements, we hope to track current trends in how the landscape is functioning. Similar to how post-occupancy building performance is measured using a series of metrics."  
Studio Bryan Hanes co-liaison Rebekah Armstrong said, "This was a project that had a really long gestation period, beginning in 2003. There's been a push to take the Reading Viaduct to an elevated park, and that sort of ground-level support from people in the Callowhill neighborhood is what makes this project unique. It's an adaptive use project for an area that doesn't really have much outdoor space to begin with." 
Callowhill's built form is predominantly warehouses converted into living spaces, lacking outdoor greenery. With the Rail Park already taking shape, residents used it as classrooms and a place to hold community gatherings and events throughout the COVID-19 pandemic and afterward.  
Due to the data-driven nature of the project, Armstrong said "as a design practice, we don't often have the chance to go back and measure how projects are doing once they're finished. I really am looking forward to that aspect of this project, and it's one of the big reasons why I reached out to Temple to collaborate in the first place." 
The project is currently in the planning stages, and Studio Bryan Hanes and Wellborn-Yates are working with guidelines set by the Landscape Architecture Foundation to lay out their findings. Because this case is site-specific to the Rail Park, the team hopes to evaluate the ecosystem services that it offers the neighborhood, especially economically. Questions to consider revolve around property values, visitor experience, and environmental benefits.  
Wellborn-Yates also discussed the history and momentum of the project: "I've had several classes that looked at the Callowhill neighborhood and the Rail Park. Temple's Landscape Architecture Department has incorporated the Rail Park and the viaduct in their studies before, so it's interesting to look at this as post-construction to see that it's not just a theoretical project anymore. We can determine how it's really affecting the neighborhood on an individual level, a neighborhood level, and a city scale. This is methodology that all landscape architects should know how to do. They should be able to take that foundational knowledge and confront the design with the finished results in mind, all while thinking about the productivity of the space." 
The project will take place through August, with the teams out in the field gathering data, then writing reports and analyzing results. The team will present their work in a webinar along with other awardees of the Landscape Architecture Foundation's 2022 Case Study Initiative.