Back to Blog
November 16, 2021
Remembering Professor Emeritus George Whiting, Landscape Architecture and Horticulture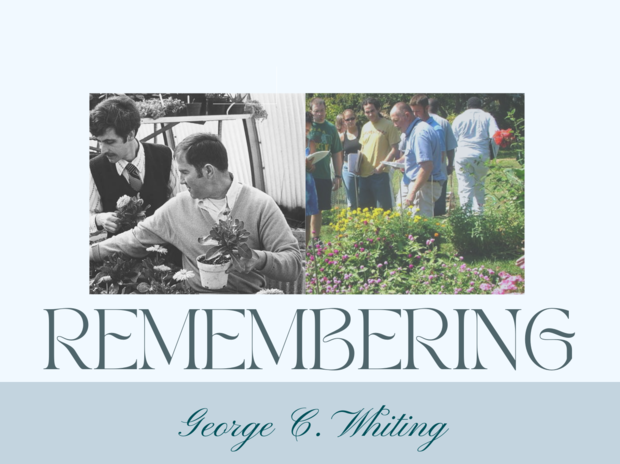 Professor Emeritus George C. Whiting was a constant presence in Tyler's Landscape Architecture and Horticulture program even after his early retirement in 2006. He often made stops by the department on the Ambler campus in the years that followed to catch up with faculty and check in on the various programs, as his colleagues and students fondly remember. 
Dr. Whiting passed away on September 4, 2021, but his legacy lives on in the memories of those he taught and worked with during his more than two decades of teaching at Tyler.
Dr. Whiting's colleague Baldev Lamba, Associate Professor of Landscape Architecture, recalls his first impression of Dr. Whiting as one of the kindest and most honest people he had ever met. In the earliest days of their careers at Temple's Ambler Campus, they had offices within hearing distance of each other, and Dr. Whiting's desk was often piled high with boxes of slides, stacks of paper, and books. Every open surface was occupied, but of course, he always knew where everything was. Professor Lamba emphasizes Dr. Whiting's approachable nature and the way he treated everyone on campus — students and colleagues alike — with unwavering kindness and respect. 
As a longtime faculty member, Dr. Whiting taught Plant Taxonomy, Plant Genetics, and Breeding, Herbaceous Plants I and II, Plant Ecology, and the Botany labs, and was an intrinsic part of the establishment of the Landscape Architecture program. He was also a member of the Pennsylvania Horticultural Society, the Perennial Plant Association, the North American Rock Garden Society, and the American Rose Society.  
Dr. Whiting's love for nature was reflected in the ways he enjoyed his time outside of the classroom. He was a talented photographer and took photos of plants that he shared during his lectures. Always active, he kayaked frequently and explored Boundary Waters National Park in Minnesota, and competed in marathons. He and his wife, Bonnie, were avid travelers and planned several of their trips around the Perennial Plant Association's yearly event. They visited every state in the US except for Alaska, all of Canada's provinces, and even went on several African safaris. Their home is furnished with antiques from several different countries as Dr. Whiting loved attending auctions, and they always made a point of visiting historical homes throughout their travels.  
Despite health setbacks, it is important to note that Dr. Whiting kept his cheerful and easy-going demeanor throughout his life. He was a gentle soul who never lost his appreciation for knowledge, travel, and the outdoors. Every year, Dr. Whiting faithfully requested plants and trees for his yard and would take a daily walk to observe them. He loved his pet cats and ducks and had a wildlife area developed next to his house's screen porch. Seed feeders attracted deer, squirrels, possums, chipmunks, rabbits, and all kinds of birds that he happily watched.  
Though Dr. Whiting had several teaching experiences throughout his career, his work at Temple University as a Professor of Horticulture was what he loved most of all, and he missed his time on campus greatly.  
IMAGE CREDIT: Special Collections Research Center, Temple University Libraries, Philadelphia, PA.