Back to Blog
June 15, 2022
Samara Weaver (BArch '11, MArch '13) Exhibits Naturalistic Artwork at Delaware's Mezzanine Gallery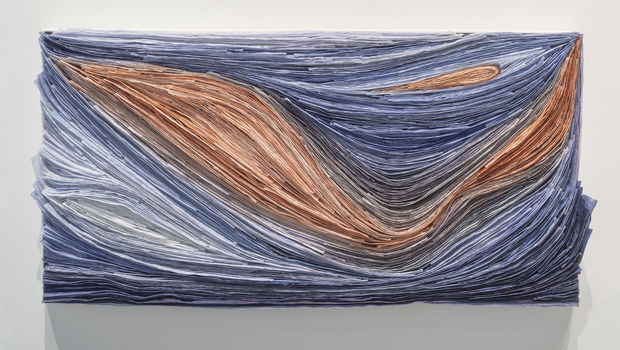 Samara Weaver (BArch '11, MArch '13) has always been drawn to buildings, spaces, and the emotions they can evoke. She ties her early love of architecture to a childhood memory of Philadelphia's grand, neoclassical 30th Street Station.  
When deciding on her education, Weaver chose to obtain both an undergraduate and graduate degree in architecture rather than the fine arts due to her search for a more "structured job market," she recently told Art Watch Podcast.  
Today, however, after spending several years working in construction, design, and project management, Weaver is now a full-time, professional artist and is presenting her first solo exhibition titled Exploration Through Materiality at The Delaware Division of the Arts' Mezzanine Gallery from June 3-24. 
Weaver, whose work ranges from ceramics, sculptures, and porcelain jewelry, incorporates mediums such as paper, watercolor and wood. Her pieces are vivid, tactile, and inviting, and Weaver often encourages the viewer to explore the work beyond their sense of sight. 
"One of the biggest things I learned in my studio classes [at Tyler] and have carried through into my artistic practice is to use different mediums to express my ideas. If I want this [architectural] model to look a certain way, how am I going to accurately portray that? It taught me to focus on craft and how things are made." 
Thanks to the opportunity to explore different mediums at Tyler such as glass and ceramics, as well as her inherent curiosity for different artistic practices, Weaver blends her eye for detail and functionality with a creative and excitable approach when pursuing her own work. After completing her graduate degree, continued to explore her creative outlet as an artist alongside her full-time architecture positions. She opened her own business, Design Hues, in 2017, which specializes in artisan florals and large floral installations. 
Weaver also approaches her practice from an entrepreneurial lens, selling her ceramic pieces so she can allocate as much time and resources to her fine artwork. She credits the drive to work for herself to Amber Cowan, Adjunct Professor in Glass at Tyler. "Amber would always take opportunities to talk to us about how to think about the business side of art. It's helped me feel like I can really make this work," Weaver says. 
The focal point of Exploration Through Materiality is layered paper works that reflect local nature such as landscapes, animals, or the sky. Her piece titled "Javon Pond Heron," one of the exhibition's centerpieces, is inspired by the actual bird and its blue-grey and gold hues. 
The methodology behind her intricate watercolor and layered paper works is an analytical process that pulls from her architectural background and is a technique that she's never seen another artist employ. "I'm mixing colors and creating gradients, but I'm painting on much more paper than the size of the final piece. If I [create] a piece that's 15 x 21 inches, I might have painted 40 feet of paper. I'm starting to create this huge landscape of paper and colors and condensing them down."  
Weaver said her works often involve the mixing of colors twice, since the larger painted paper is compressed to a smaller form.  "You're viewing the light through those layers, and I really do think it affects your perspective of the piece due to contrast or lack of contrast," she explained to Art Watch. 
Following her acceptance into the Juried Craft Show at the Delaware Art Museum in 2018, Weaver felt an artistic turning point and began to focus solely on her creative work from then on. In 2020, she acquired a studio space at The Delaware Contemporary and has since been pursuing her multimedia practice full time. Weaver also emphasizes the importance of how natural her craft comes to her as she is someone with learning differences, which she never let get in her way. 
The Mezzanine Gallery, open weekdays from 8:00 a.m. to 4:30 p.m., is located on the second floor of the Carvel State Office Building, 820 N. French Street, Wilmington, DE. 
Weaver's next exhibition will be at the Blue Ball Barn in conjunction with The Delaware State Parks in August 2022. 
Photo credit: "Javon Pond Heron" by Samara Weaver