Back to Blog
January 26, 2022
Shwarga Bhattacharjee (MFA '18) Lets Art Imitate Life in "Excavation Paths" Exhibition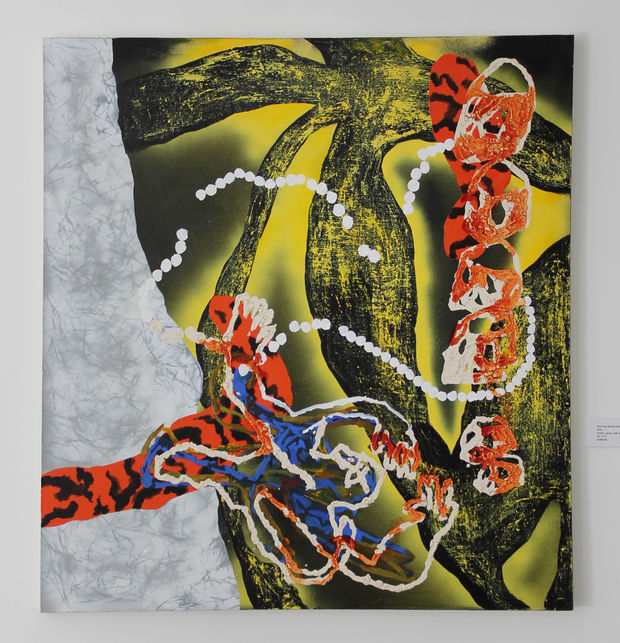 Tyler alumnus Shwarga Bhattacharjee (MFA '18) has always let lived experience be his muse. His large, lushly layered abstract paintings and collage evoke his cultural background and identity as South Asian as well as the history of his home country, Bangladesh. 
Concealed within his use of vivid colors, contorted forms, bold and delicate textures, and broad gestural strokes are references to his Hindu religion and mythological stories, national symbols, verdant geographies, star-packed constellations, demons and goddesses, and the ravages of British colonial rule in India. 
"I grew up studying European painters, which I admire, like Rembrandt and Velasquez. But I am aware that this history ignores art from other parts of the world," Bhattachargee said recently, adding that during his studies and training in Bangladesh he began to ask, "why is art from Asia and Africa not part of this history?" 
Bhattacharjee is the Da Vinci Art Alliance's Michelle Angela Ortiz Fellow for 2022, and last summer was named a 2021 Peter Benoliel Fellow by Philadelphia's Center for Emerging Visual Artists. Both fellowships have enabled him to further explore formative experiences in the land of his birth and as an immigrant, narratives that touch on the personal and the political. 
He has been able to share his work with other artists through the CFEVA fellowship and credited these collaborative opportunities with empowering his practice. "It feels good connecting with other active artists. I'm more supported, more strong," he said. "My work is about what I'm seeing, what I'm experiencing. I can't resist talking about these experiences" through painting. 
This month, Bhattacharjee opened his first solo exhibition, Excavation Paths, curated by art critic Tausif Noor, at Twelve Gates Arts, an Old City gallery dedicated to showing the works of South and West Asian artists. He has also exhibited by Vox Populi, the Jamaica Center for Arts and Learning in New York, and Dhaka Art Summit 2012 in Bangladesh, where he was named one of the national Young Talents among 29 short-listed artists. 
Bhattacharjee has characterized his inspiration as "a seemingly never-ending phase of adaptation to the new societal and political culture in the United States" and "continuous introspection into my origin." He has said this duality has deepened his exploration of his heritage through the lens of colonial and post-colonial cultures. 
Bhattacharjee likes to experiment with mediums and tools as well – working on canvas and paper, using acrylic paint, spray paint, crayon, Sharpies, old photographs and discarded cardboard, plastics, and newsprint. When he could not afford canvas or did not have the space to store the large stretchers, he turned to collecting supermarket circulars and packing them into oblong baking pans to create panels he then used to construct larger surfaces to paint on. 
Noor, the art critic and Bhattacharjee's friend, wrote of the solo exhibition: "Excavation Paths is pitched between a sober recognition of the past and a cautious look at the present, emerging from a period of political upheaval and social uncertainty in South Asia, the U.S., and the world at large." The works touch on sectarian violence against Hindus in Bangladesh, Pakistan, and minority communities in India; activism spurred by the Black Lives Matter movement, and the devastation of the COVID pandemic. 
Despite the allusions in his work, Bhattacharjee remains optimistic about the world and his aesthetic reflections on his daily experiences. "I always keep hidden words in my paintings. If someone looks and finds those hidden words, it might give them a joyful moment," he said. 
Excavation Paths is open until February 23rd at Twelve Gates Arts, 106 N. Second St., Philadelphia. 
Image credit: "Clue you missed along the way." Oil and mixed media on canvas. 38.5" x 50" courtesy of Twelve Gates Arts