Back to Blog
April 6, 2018
Student interview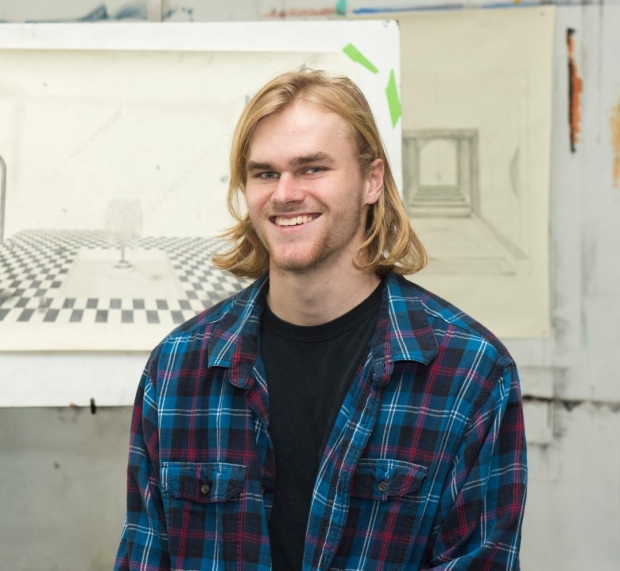 Jarrah May- It seems like you've lived everywhere. Is that true?
I was born in Arlington, VA, but the entire timeline of moves is like this:
1. Chennai, India for 2 years, moved there when I was 10 weeks old
2. Arlington, VA for a few months
3. Ho Chi Minh City, Vietnam for 2 years
4. Fairfax, VA for 2 years 
5. Sydney, Australia for 3 years
6. Johannesburg, South Africa for 3 years
7. Washington, DC for 3 years
8. Los Angeles, CA for 2 years
9. Philly!
I consider my hometown to be the District of Columbia because although I was born outside of it, I spent my most formative years and met all my best friends there.
I'm also an Australian citizen through my Mum.
What made you pick Tyler?
I really liked how rigorous the graphic design program sounded, I liked how helpful all the faculty were even before I was accepted, I liked the fact that Temple has campuses in other countries (especially Tokyo), and the facilities are fantastic.
Are you enjoying Foundation year?
I am enjoying Foundation year. It's good to get an academic introduction to different artistic mediums, most of which I hadn't touched before college because I focused mainly on digital art. I feel like I am a much stronger and more well rounded artist for it, as frustrating as it can be at times.
What do you think of Philly?
I absolutely love it. It feels like home now and I'll be very happy to spend at least 3 more years here.
What major(s) are you considering exploring at this point?
I intend to go through the graphic design track. Since freshman year of high school I've been working towards graduating college with a BFA in Graphic Design. I'm also interested in printmaking and want to take some classes next year to explore it more.
Are there people who influenced you artistically? Events?
My first major influence was my freshman graphic design and sophomore digital photography teacher Alexandra Stryker. Her class was the turning point for me in what direction I wanted to take my life in. I kind of wanted to be a film-maker before high school but after only one semester of her class I was dead-set on a career in graphic design. She instilled a love of good design in me and provided honest critique, something that I found rare outside the college studio.
I've also always loved Aaron Draplin, with his super clean, functional design and his enormous passion for it.
What do you want to do after Tyler?
After Tyler I want to start working as a graphic designer, maybe in Philly, maybe in New York, maybe somewhere in Australia, hopefully for a cool firm or in house at a media company. I might also be interested in getting a master's degree in art direction or something of the like, but that's later down the line.