Back to Blog
February 23, 2023
Temple Ambler's Secret to Forced Plant Growth for PHS Flower Show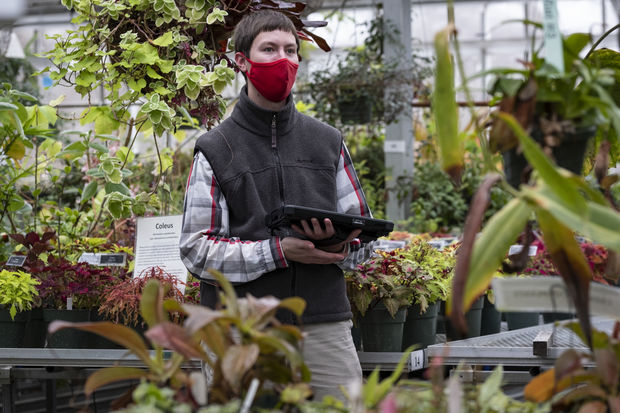 Benjamin Snyder, Manager of the Tyler School of Art and Architecture Greenhouse Education and Research Complex at Temple Ambler, Temple Horticulture senior Ethan Smith, and Landscape Architecture sophomore Owen Lambert are working to convince 852 plants from 65 different species that less than two weeks from now would be the perfect time to bloom.
This bit of foliage chicanery is all for a good cause as the plants will provide the distinctive settings that comprise Temple's 2023 Pennsylvania Horticultural Society's Philadelphia Flower Show exhibit, The Power of Nature — Plug Into It.
"Since our students have the opportunity to either do directed studies or explore volunteer opportunities to assist on the plant side of the Flower Show, they get practical experience working in the Greenhouse, problem-solving, working on a tight schedule and figuring out how to make the best of certain situations," Snyder said. 
Temple continues to be one of only a handful of exhibitors that forces its own plants for their exhibits. According to Snyder, the four main aspects that go into forcing a plant to bloom out of season are length of cold treatment, heat, light and humidity.
"We need to trick plants into thinking that winter is over and spring is here. To do that, they need to have an early winter," said Snyder, a Tyler Horticulture program alumnus. "We accomplish this through vernalization, which takes place in our on-campus coolers. Each plant is then brought out of the coolers and into our growing zones according to the schedule. For certain plants, extra heat, light, and/or humidity is needed — this is facilitated by heat mats, grow lights and forcing tents."
According to Ethan Smith, vernalization requires "a lot of moving."
"When it comes to preparing plants for the Flower Show, a big factor is temperature. We have to do a lot of moving between the freezer outside, the Greenhouse, and the Hoop House — it takes a great deal of careful attention to the needs of the plants," he said. "I've learned a lot about what it takes to force a plant. Before this, I had learned about various biological processes, but I had never really learned about the processes of how to get a plant to leaf out and flower so quickly. You are essentially planning their growth cycle around a specific date and time."
Excerpted from full story by Jim Duffy. Click to read here.
Photo of Benjamin Snyder by Joseph V. Labolito