Back to Blog
November 17, 2021
Temple Contemporary Opens New Exhibition, "In Dialogue."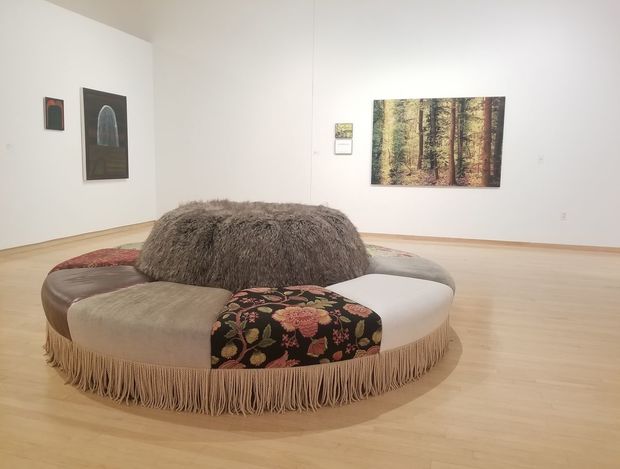 The newest installation in Temple Contemporary, In Dialogue, features the works of several of Tyler's visiting lecturers from the Critical Dialogue series as well as alumni lecturer Virgil Marti, whose work is pictured above with pieces from artists Eileen Neff and Patrick Macguire. The exhibition is curator Adam Blumberg's attempt at laying out a cohesive and complimentary display from makers across all areas of the art world.  

Multimedia works by Gerald Brown (left), Sound installation by William Cordova (right)
Pieces from Weshoyot Alvitre, Tony Avelar, Gerald A. Brown, William Cordova, Jason Dunda, Joy Feasley and Paul Swenbeck, Patrick Maguire, Virgil Marti, Eileen Neff, Ibrahim Said, and Stephanie Shih are all on display, and they resonate with viewers who attended their lectures. 

Gerard Brown, A Vessel, Diagram Painting Triptych, 2019 (left) and Descendants of Strange Fruit, 2021 (right)
Playing on themes of light, reflections, atmospheric conditions, soundscapes, and the relationships of the self to the world, each artist encourages conversations between students, identities, histories, and the creators themselves.   

Multimedia works by Virgil Marti (MFA '90)
When brainstorming concepts for In Dialogue, Blumberg and fellow curators, graduate assistants Allyson Church (MLArch 2023) and Amy Shindo (MFA 2022), settled on imagination, myth, surreal, parallels, dislocation and identity. All these ideas are evident in each room in Temple Contemporary's intentionally laid-out space, and each work appears to be aptly connected and "in dialogue" with each other as the viewer walks through. 
In Dialogue is on view and open to the public through February 12, 2022.  
Gallery Hours: Wed–Sat, 11–6 p.m.
2001 N 13th Street, Philadelphia, PA 19122