Back to Blog
February 2, 2022
Temple Contemporary Launches Its Seed Packet Project This Spring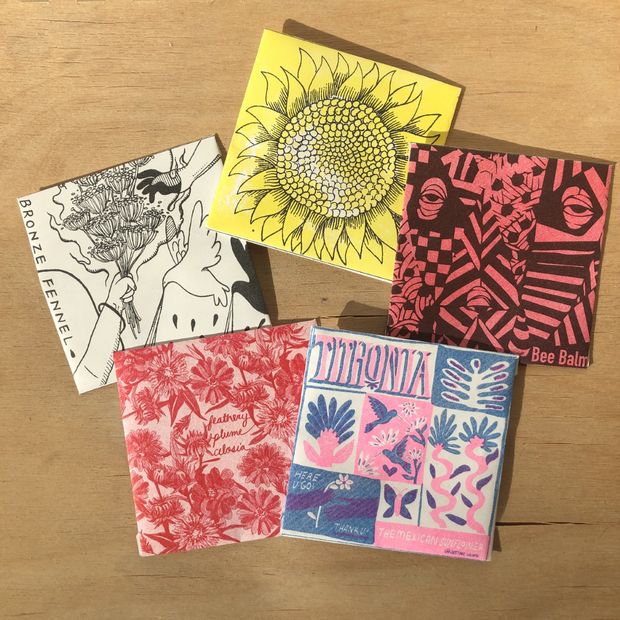 Allyson Church, graduate assistant with Temple Contemporary and MArch candidate, has been spearheading the gallery's Seed Packet Project, an initiative to bridge the arts with the built disciplines in a unique and interactive way.  
Having initially received her BFA in Printmaking, Church took a gap year between degrees to learn farming methods since she felt like pursuing a career in the fine arts wasn't necessarily for her. While working at a flower farm in Philadelphia, she learned about land use and regenerative farming.  
While brainstorming ideas for engagement for Temple Contemporary this year, Church wanted to find a way to connect with the student body that wasn't digital or largely in-person — something that would pull people off of their screens in a safe, Covid-conscious way. She also wanted to find some way to connect the LAHORT programs with the fine arts programs, because she is the only grad assistant at Temple Contemporary that isn't in an MFA program.  
In March, Temple Contemporary, in partnership with the Office of Sustainability, will launch their Seed Packet Project. Church and the other Temple Contemporary graduate students will distribute packets of seeds provided by Truelove Seeds, a collective of local farmers in Philadelphia with a focus on cultural awareness. The seeds include bee balm, Mexican sunflower, Hopi black dye sunflower, bronze fennel, and feather celosia — all flowers that can have medicinal and dye uses. Each packet features artwork from local artists Henry Bermudez, Claes Gabriel, Kay Seohyung Lee, Justine Kelley, and Soumya Dhulekar.
The giveaway will take place in the main Tyler building on March 24 and on the Ambler Campus next month, an event in April with the Office of Sustainability, and Church also hopes to donate Seed Packets to local community gardens as well. 
After graduation, Church hopes to continue to cultivate these cross-disciplinary opportunities for herself as she pursues a career as a landscape architect. Because she is drawn to printmaking's process, materials, loose structure, and drawing, she intends to combine that passion with her farming practice. She emphasized all the ways that humans interact with land, both positively and negatively, and living in a city doesn't prevent the act of land preservation. 
Photo courtesy of Allyson Church