Back to Blog
February 15, 2022
Temple's Scientista Chapter Shares Collaborative Exhibit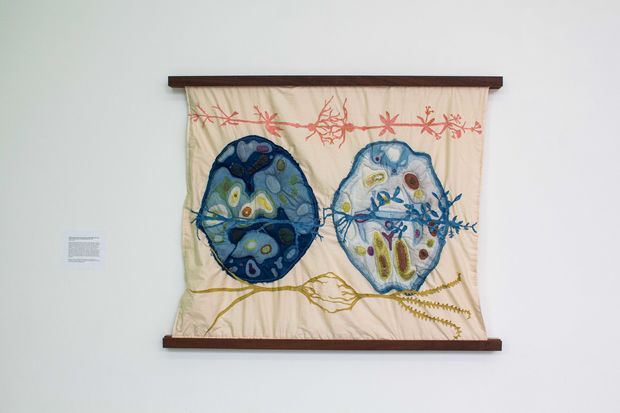 Temple's chapter of Scientista, a national foundation built around empowering women in science, technology, engineering, mathematics, and medicine (STEMM) fields, recently curated an open-call exhibition for STEMM-related artwork. For students like Hajra Sohail (CST '23), a biology major with an art minor, this project was an eye-opener to the kinds of creative collaboration that non-art disciplines can enjoy. Projects were varied, incorporating an array of mediums like painting, drawing, sculpture, and fibers. 
Sohail partnered with computer science major Sean Britt (CST '23) on a project titled "ARTificial Intelligence," and incorporated the phrases 'Raining Cats and Dogs,' 'Don't Put All of Your Eggs in One Basket,' 'Butterflies in My Stomach,' 'A Day at the Beach,' and 'Brushing My Teeth,' which generated images from QGAN+CLIP Neural Network technology in response to those sayings.  
Sohail's artist statement described this process as "using the program itself as our resource, which, in a way, makes the computer the 'artist' and us the 'recreators. A process such as this begs the question, is computer-generated art still valid 'art'?"  
This exhibition sparked an interesting conversation among participants — most of whom are pursuing non-art fields. Combining art and science has changed the way Sohail looks at her major. "QGAN is just code, and it will do whatever you need it to do, but sometimes it will do its own thing. Humans can't always recreate what nature or machines do. People don't really see that science can also be an exploratory and abstract process." 
Britt, who has been painting for about six years and has taken a handful of Tyler classes in the past, said, "I always feel torn between art and technical learning, so this was a very good exercise in spreading myself across both disciplines. It's eye-opening. Maybe I don't have to just work at a tech company after I graduate, maybe there are other options."  
This was Scientista's first time exhibiting at Tyler, and both Sohail and Britt expressed how they'd love to set up another show. "I was initially nervous to see who would participate, but I'm really glad that we were all able to work together." Sohail and Britt both enjoyed how exploring different areas across STEMM fields view art in relation to their technical work can only further prove that creativity can exist anywhere. 
Click here to view photos from Scientista's exhibit, taken by Julie Oliveti 
"ARTificial Intelligence"