Back to Blog
April 3, 2020
Tyler Alumna Patricia Renee Thomas's Solo Show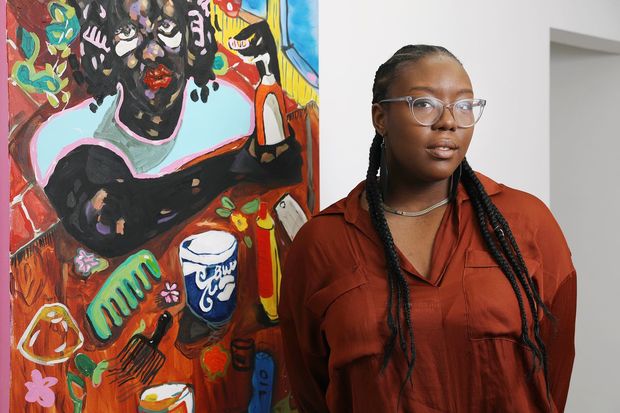 Tyler School of Art and Architecture alumna Patricia Renee Thomas (BFA '17) is featured in her solo show, "Grapejuice," at Kapp Kapp gallery in Philadelphia, which is currently closed due to the COVID-19 (novel coronavirus) pandemic. The exhibition, inspired by Thomas's experience getting her hair done as a child and focuses more widely on "the self in the form of preparation, and the form of preservation, and the form of performance, especially as a black woman," will be extended once the gallery reopens. 
The show has been highlighted in the Philadelphia Inquirer as well as Amadeus magazine. "There is a huge need for us and a lot of space for us [female artists and artists of color]," Thomas said in Amadeus. "We're just carving out space as we go and changing the narrative of how long it takes to be successful and what it means to be a woman artist. It's nice to be living it and to motivate other incredible young female artists to live it as well."
"Grapejuice" is yet another exhibition by Thomas, who has previously exhibited in New York and Los Angeles. Her works are in various private collections across the United States.