Back to Blog
May 24, 2019
Tyler Alumni in 5 into 1 Exhibition (May 23–June 23, 2019)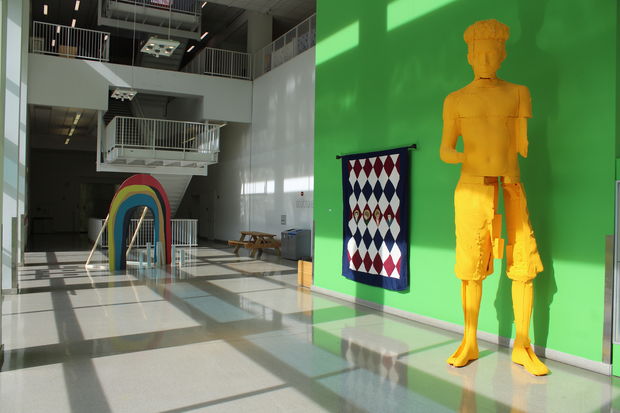 On May 23, 2019, in the Tyler School of Art and Architecture's Green Hallway Gallery, Philadelphia Sculptors hosted the opening of its 20th annual 5 into 1 exhibition (on view through June 23, 2019). The show features the work of some of the best up-and-coming artists who have graduated from five local institutions: the Moore College of Art & Design, the Pennsylvania Academy of the Fine Arts, the University of the Arts, the University of Pennsylvania and Tyler.
This year, Philadelphia Sculptors—the only professional organization of sculptors in the Philadelphia region, which expands public awareness of the role and value of sculpture within our culture—broadened its parameters for the exhibition beyond students who have graduated solely from sculpture programs. Curators selected artists who promote sculptural thinking and movement, spanning many disciplines and areas of study. 
As a school that prides itself on cultivating interdisciplinary study and thought, Tyler is thrilled to be strongly represented in this year's 5 into 1 exhibition, which features work by 2019 BFA graduates in Ceramics (Juan Hurtado Salazar and Molly McDonald) and Fibers & Material Studies (Madeline Marvin and Emilie Patton). 
The 5 into 1 show provides an opportunity for recently graduated emerging artists to transition from academics to exhibiting while also celebrating their individual institutions and the impact they've made on their study and practice. At this year's show, Tyler's own Salazar won "Best in Show" for his piece, David el Primero (Prototype for a Deployable Monument), and Marvin won first runner up—she featured two pieces, Double Tap and Candy Ass. These honors further emphasize the talents of Tyler's graduates and its strong national reputation.
"I like being around other artists that really push the limits," said Marvin. "It's important to broaden your perspective and show with other artists outside of your bubble. I get to show my work and get more exposure. Hopefully, my opportunities to exhibit will multiply!"
"This long-standing exhibition provides newly minted graduates with the experience of exhibiting professionally while beginning to cultivate broad relationships in the Philadelphia art community," says Kati Gegenheimer, associate director of academic enrichment programs at Tyler. "It is an invaluable opportunity."
20th Annual 5 into 1 Exhibition
May 23–June 23, 2019
Green Hallway Gallery
Tyler School of Art and Architecture
2001 N. 13th St.
Philadelphia, PA 19122