Back to Blog
November 12, 2021
Tyler Alumni Explore Themes of Race and Identity in Various Exhibitions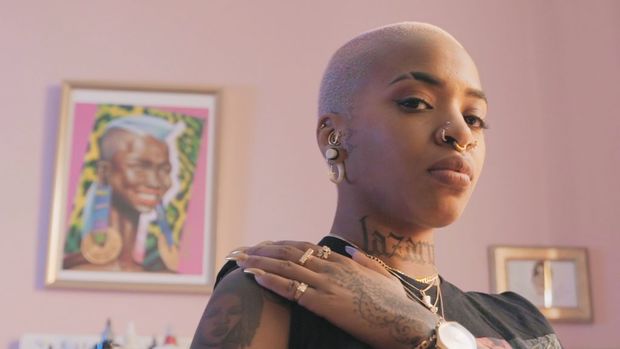 Doreen Gardner (BFA '10) is displaying a new body of work at MoMA's quinquennial "Greater New York" exhibit, and her work "Lucy's Agony" (2021) directly explores brutalities committed against the Black female body. Gardner, pictured above, spoke with Art21 about her process and how working as a sculptor and tattoo artist has both exemplified and revealed difficulties about using skin as a new sort of canvas.  
Much of Gardner's work specifically references J. Marion Sims, a doctor who performed gynecological operations on enslaved Black women without anesthesia as well as how these crimes come full-circle and harken back to 2020's canonical Black Lives Matter movement. However, Gardner's sculptures use white bodies as canvases rather than Black bodies, taking a unique approach in exploring this racial inequity. "I don't want to put a bunch of bloody Black bodies just by themselves as entertainment," Gardner told Art21. 
Though she is a tattoo artist who is intimately familiar with working with skin, Gardner reflects on how tone-matching was so difficult when using white skin as a reference point. In many ways, though, this felt fitting to her because, historically, artists have misrepresented Black people in their work for so long. 
Watch a video of "Lucy's Agony" and Gardner's process here, and view the "Greater New York" exhibit at the MoMA through April 2022.  
Top Photo: Production still from the Art21 "New York Close Up" film, "Doreen Garner on Her Own Terms." © Art21, Inc. 2021.

Victoria Ravelo, sugar sculpture detail, Hidden In Plain View, 2021. Photo courtesy of Locust Projects.
Victoria Ravelo (MFA '21) was featured in this summer's Locust Projects with her exhibition "Hidden In Plain View." From June 1-30, 2021, Ravelo transformed the Mobile Studio into a laboratory where she created daily sugar sculptures. Her chosen mediums reflect on the local Caribbean culture and discuss how the sugar industry has impacted the area's history as well as its current global relevance. The obvious imbalance of power was most evident through those who could afford sugar in their daily life, and Ravelo's "amorphous" sculptures capture and reflect light through amber glass-like panes. Ravelo invited locals to collaborate with the project and donate material of personal significance to her work. "The goal is to expose unifying threads within the multiplicity of shared experiences that exist within Locust Projects' surrounding communities – predominantly composed of working-class people of the Caribbean and Latinx, African American diaspora – and connect their individual narratives with that of greater Miami as a whole," Ravelo said.  
Ravelo earned her BFA from the University of Miami in 2015 and has shown recent work at The Chapter House in Los Angeles, Grupo Ánima in Havana, Cuba, Bridge Red Studios in Miami, and Miami Dade College in Homestead, Florida.  

John Emison, detail from Knot at MIM Gallery, Los Angeles. Photo courtesy of the artist.
Sculptor John Emison (MFA '14) contributed a piece to the exhibit Knot at the MIM Gallery in Los Angeles, on view from October 1 to November 27. The show, curated by Tyler alum Iva Gueorguieva (Painting '00), also features the immersive works of Elena Dorfman, Joséphine Wister Faure, Georgina Reskala, and Gueorguieva.  
Knot explores themes of "physical manipulation" and "disruption of surface," which is evident in Emison's chosen medium — letter-carving images into the smooth surface of rocks that have been shaped by a river's natural current. Others, like Wister Faure, pierced holes into a wall that "weeps." Each artist's work, though understated and minimal, is full of meaning buried just beneath that first disrupted layer, adding to exhibit's overall theme. 
You can read more about Knot and the MIM Gallery here.  

Syd Carpenter, Rashid Nuri, clay and steel. Photo courtesy of the artist.
Tyler student Jermaine Ollivierre and Syd Carpenter (BFA '74 & MFA '76) are both featured in Cherry Street Pier's current exhibition, Voices and Visionaries, on view now through January 28, 2022. Presented by Philadelphia Sculptors, the exhibition features talent from diverse corners of Philadelphia, unifying makers from Black, Asian, and Latinx art sectors. Installations include multimedia, traditional, and non-traditional sculptures.  
Carpenter created works using steel, ceramics, and shipping containers to bring her piece, African-American Farms and Gardens, to life. The piece also features a video projection that sheds light on an otherwise "overlooked group of people," encouraging viewers to stop and take in the display. 
Ollivierre's piece, Legacies, is a reimagined 1980s Chevy Caprice constructed out of clothing and car parts. It sits at the pier's entryway and challenges viewers to "confront the complicated American landscape, which depicts beautiful and deplorable moments interwoven into the fabric of society," he explains. He also contributed the sculpture titled Rocky at the top of the pier's steps, befitting Philadelphia's complex sense of identity.  
You can learn more about Voices and Visionaries here.