Back to Blog
June 9, 2021
Tyler alumnus selected for campus mural project as part of Temple's commitment to the U.N.'s Sustainable Development Goals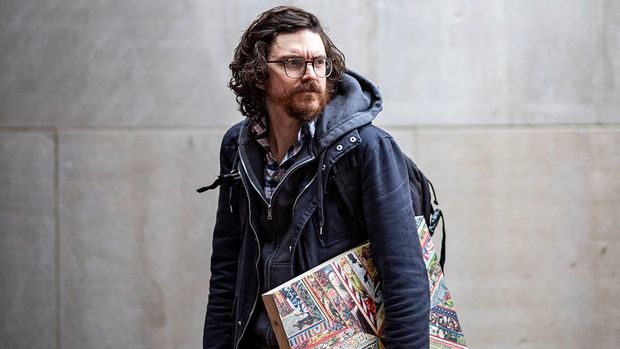 This post is an edited version of a longer story by Rayna Lewis at Temple Now. Read the entire story here.
Tyler School of Art and Architecture alumnus Mat Tomezsko (TYL '09), an accomplished muralist who has created a variety of community art projects, has been selected to produce a mural as part of Temple University's commitment to the U.N.'s invitation to World Heritage Cities to create artwork depicting one of their 17 Sustainable Development Goals. These goals include no poverty, zero hunger, affordable and clean energy, and reducing inequalities—the latter selected by Temple as it aligns with Russell Conwell's purpose when he established Temple. 
"Reducing inequalities is always our goal, and should always be the goal of higher education," said Vice President of the Office of International Affairs Hai-Lung Dai. "Education has the ability to transform and empower people through expansion of knowledge and ability."
In partnership with Global Philadelphia, a nonprofit working to encourage collaboration among the area's internationally focused organizations and enhance the region's global profile, Temple created a juried call for proposals open to the Temple community. Among the submissions, Tomezsko's proposal stood out, as it involved his research-based mural class offered through Temple's University Community Collaborative (UCC), which is designed to help high school students develop into confident, knowledgeable and connected leaders within their communities in an effort to combat racial and other social injustice.
Tomezsko's mural concept, "Revolutionary Philadelphia," revolves around the people who made progressive contributions to help shape modern Philadelphia. He will help his 10 students in the UCC research these important historical figures, discuss them and then create art about them. Tomezsko will act as editor, joining these separate thoughts into a collage.
"If people have a voice and feel represented, that's a small step toward equality," said Tomezsko. "Giving audiences access to another point of view opens the door to empathy, but these opportunities don't happen often enough in art."
Tomeszko's class will start in July and culminate with the collage that will be adapted into a mural near the 11th Street entrance to Main Campus at Anderson and Gladfelter Halls. The mural is slated to be installed toward the end of August. 
Temple is one of 17 nonprofits across Philadelphia participating in this project. Global Philadelphia has asked 17 different nonprofits across the region to sponsor one of each of the 17 goals outlined by the U.N., and choose their own artist. 
Photography By: Ryan Brandenberg