Back to Blog
November 8, 2021
Tyler Celebrates Three Award-Winning Professors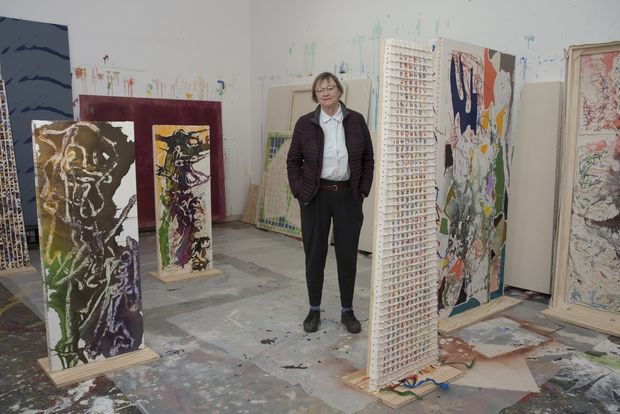 Dona Nelson, professor of Painting, has received the College Art Association's prestigious 2021 Distinguished Teaching of Art Award. She joins a list of major figures who have firmly demonstrated the inseparability of teaching and artistic practice.
"It takes a visionary artist with social imagination to create a high-level learning and working environment where artistic and pedagogical practices run hand in hand," says Susan Cahan, Dean of the Tyler School of Art and Architecture, "We are thrilled to have this generous, rigorous, and profoundly impactful artist/educator on our faculty."
Tyler alumnus Trenton Doyle Hancock (MFA '00) recounts how Nelson helped him to understand that as an artist, he had the power to draw or paint any way he desired. He says, "I always left Dona's classes uplifted and ready to fight for art, to stand for something, to stand up for my own ideas."
---

Lolly Tai, Professor of Landscape Architecture
Lolly Tai, professor of Landscape Architecture, has received the 2021 Jot D. Carpenter Teaching Medal from the American Society of Landscape Architects (ASLA), recognizing her sustained and significant contribution to landscape architecture education.
"Needless to say I am deeply humbled," said Tai.
A national honor given annually, the Jot D. Carpenter Teaching Medal is awarded to a faculty member who embodies the eponymous Professor Carpenter of Ohio State University—an individual whose honor, commitment and energy as an educator leaves an indelible mark on landscape architecture education.
Tai, a licensed landscape architect whose work is focused on sustainable landscape design, has been a formidable educator of landscape architecture, teaching design studios, research design methods, materials and methods of construction and site engineering, among others. Her experiences as a professional landscape architect have enhanced her classes, too—last year, the ASLA named Tai a First Asian American Pacific Islander Fellow to honor her vital contributions to the field.
The Jot D. Carpenter Teaching Medal will be presented during the Conference on Landscape Architecture on Monday, November 22, 2021 in Nashville.
---

Assistant Professor Mark Thomas Gibson. Photo by Ryan Collerd, courtesy of The Pew Center for Arts & Heritage.
The Pew Center for Arts & Heritage announced that Assistant Professor of Painting, Mark Thomas Gibson, has earned a prestigious 2021 Pew Fellowship to support his artistic practice. Gibson chronicles race, class, and contemporary American culture with a historian's eye on the past. His paintings, collages, prints, caricatures, graphic novels, and other visual works explore the potential of narrative art to provoke examinations of power structures and racism and to foster empathy. 
"Like an overextended peninsula at the edge of the world," says Gibson, "my work acts as the soil between two bodies of water: Historical Truth and Personal Truth."
As Pew Fellow, Gibson is one of twelve individuals to receive an unrestricted award of $75,000 from the Center to "fund the forward-thinking work of imagining recovery and realizing transformation in artistic and organizational practices."
Earlier this year, Gibson was named Princeton University's distinguished Lewis Center for the Arts Mary Mackall Gwinn Hodder Fellow for 2021–22.
His most recent solo show, Don't Let Me Be Misunderstood, runs now through December 4, 2021 at M+B Gallery in Los Angeles.
Photo (above): Professor Dona Nelson stands among her distinctive two-sided paintings. Photo courtesy Thaddeus Ropac.