Back to Blog
February 3, 2022
Tyler Faculty Named to AIA Philadelphia Board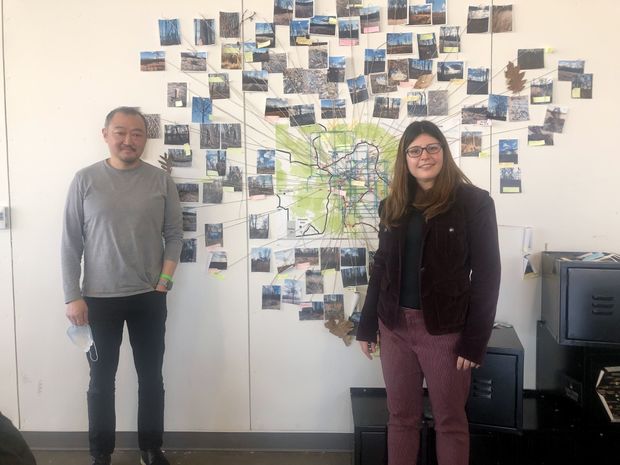 Two AED faculty members, Fauzia Sadiq Garcia, RA, and Eric Oskey, RA were recently named board Directors of the American Institute of Architects' Philadelphia Chapter. Garcia will serve as the Director of Education, while Oskey will be the Director of Technology and Innovation.  
What are your plans for your AIA tenure? 
Garcia: "During my three-year elected board position as the Director of Education, I will be working with the Community College of Philadelphia, Drexel University, Pennsylvania State University, Thomas Jefferson University, University of Pennsylvania, along with our program administrators at Temple University. I plan to help facilitate education-based programs in Philadelphia and represent these institutions during various speaking engagements. To highlight architecture in the K-12 sector, I will be working closely with the Director of Design Education at the Center for Architecture and Design to implement and expand K-12 student design education throughout Philadelphia, and facilitate a conduit for higher education pursuits for the students." 
Oskey: I am not entirely positive of what my plans are yet.  I am just starting to get acclimated to the board and how it works.  However, through my position as Director of Technology and Innovation, it is my hope that Technology can be leveraged to instigate discussions and create directives on larger issues such as climate awareness, social justice and education.  This is very broad right now but I hope to get more specific shortly. 
What are you looking forward to accomplishing during your leadership role? 
Garcia: "As a female architect, I am very cognizant of the lack of equity, diversity and inclusion in our profession. AIA National analyzed staffing in architectural firms as part of their 2015 diversity survey and found that women only compromised 24% of the staff, while people of color were even lower at 22%. When reviewing data collected by NCARB (National Council of Architectural Registration Boards) for newly registered architects in 2020, 40% were female, whereas only 29% were people of color. The proportion of African American candidates taking their registration exams hasn't changed over the past decade and continues to be underrepresented in practice. The good news is that women are trending at a higher rate for registration which indicates progress toward gender parity. However, for people of color, the profession has not seen improvement over the years.  
What I would like to strive for is to make this profession more equitable, diverse and inclusive to all students. In 2020, AIA Philadelphia voted to support a new initiative called A Road Map to Success: Equity, Diversity and Inclusion in Architecture Education. Their initiative is what interested me to take on a leadership position on their board. I would like to work on joint programming with our local colleges and universities to market the design profession to students in our region. I would also like to work with our local affinity groups which include AIAS chapter (American Institute of Architecture Students) and NOMAS (National Organization of Minority Architecture Students) to understand all the voices that need representation, and to connect students from the various institutions."  
Oskey: "I hope to be able to set up a permanent committee on Technology that continuously engages current technological practices and be a source for professionals to be engage and educated.  I am specifically interested in issues of Representation, Augmented Reality and Lidar Scanning." 
How do you feel your experiences at Tyler could play a role during your time with AIA? 
Garcia: "My research focuses on sustainable design, looking most specifically at how to detail our exterior walls to reduce our energy consumption and shift building designs towards carbon neutrality. I'm on the Tyler Climate Action Committee and have been working with Rebecca Collins, Director of Sustainability at Temple, for various programming within Tyler and we were interviewed by the Temple News for a feature about resilient design in the wake of Hurricane Ida. The courses I've taught about sustainable design and the efforts our committee is striving to make will have an impact on my role with the AIA since part of their strategic plan calls for members to position their firm around issues of sustainability and historic preservation." 
Oskey: "I think being in an academic environment lets me strategize quickly ways to develop focused research and organize methods of learning.  I hope these will be helpful in my time with the AIA." 
What does your professional practice look like outside of Tyler and AIA? 
Garcia: "I am a principal at Sadiq Garcia Design LLC, a visual arts and architecture practice that employs various modes of fabrication for custom products and creative design solutions for architectural projects. We have worked on projects local to our region, as well as in California and Canada. Our latest project is an addition and renovation for a private residence in Malibu, California." 
Oskey: "I am a partner at the architectural design firm Moto Designshop.  We have finished a number of notable projects that have recently won recognition.  It has been a fruitful synergy between the profession and academics, which has benefitted both sides of my architectural life."