Back to Blog
May 10, 2022
Tyler 2022 Grad Proposes on Commencement Day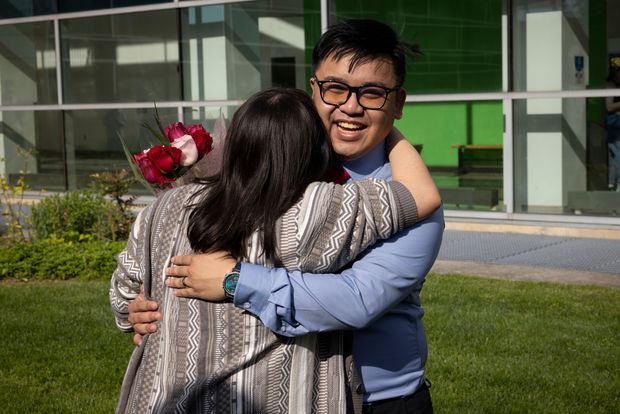 Phil Le (TYL '22) made his graduation day extra special by proposing to his girlfriend of eight years, Olivia Colacicco (TYL '21), at Tyler's commencement reception surrounded by friends, family, and former professors.  
Since meeting in their high school's graphic design class, the two bonded over their shared love for the digital art world, and when Colacicco went on to pursue her BFA at Tyler, Le was encouraged to attend the year after. From weekend visits to late night studio work sessions, Le quickly came to appreciate what life at Temple University would be like, and the fact that he would share a major with Colacicco was an added bonus.  
During their time in Tyler's GAID program, Le reflected on how their creative differences encourage a little bit of "friendly competition" and offer clarity to each other's ideas when they feel stuck on a project. However, both Le and Colacicco branched off into different areas of the major, with Le serving as the CRAVE Exhibition's project manager, with a focus on brand design. After her graduation, Colacicco went on to work a graphic designer and illustrator creating infographics and e-learning modules for Red Nucleus, an agency that provides advertising and marketing for the medical field. 
Le popped the question at Tyler because he knew Colacicco felt so connected to her time on campus and to the group of friends she'd made in Le's graduating class. "She feels like she's still a part of this community because she really loved her time here, and I think this will be a really nice surprise for her." 
Congratulations and best of luck to the happy couple — Tyler School of Art and Architecture and your friends in GAID are proud of you both!  
Photo by Dan Z. Johnson