Back to Blog
May 27, 2021
Tyler student aspires to help build city neighborhood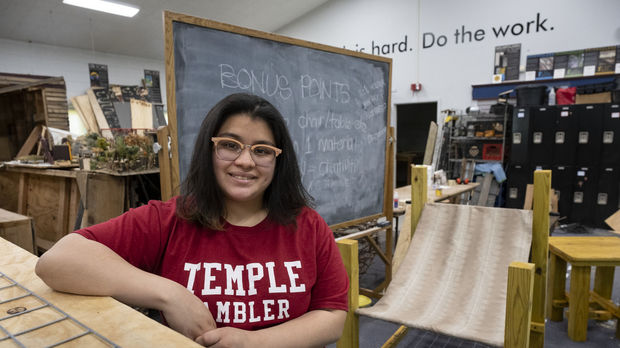 This blog post is an edited version of an original story written by Temple Now's Tori Addison. You can read the full story here.
In the spring of 2021, Tyler School of Art and Architecture Landscape Architecture student Savina Echeverria (BArch '22) explored her interests, combining knowledge learned inside the classroom with hands-on experience in real-world settings, by working directly with city officials on revitalization efforts for a neighborhood in Upper Darby—an urban township that borders Philadelphia.
Echeverria worked with fellow classmates to identify potential green spaces in the neighborhood and offered design suggestions for a park and other outdoor areas. Upper Darby decided to take those ideas into consideration and has since worked with another class of Temple students to continue the project. This sense of community is one of the aspects that originally drew Echeverria to both Tyler and Temple.
"I knew that Temple is very much a people's university and it's geared towards helping communities from all types of backgrounds, so coming from an urban background myself I felt represented," Echeverria said.  "[This project] was a really awesome experience because it was like we were actually doing the work as a career. As someone who wants to focus on urban areas, this was confirmation that I really do like city planning and development. Temple really makes sure you understand teamwork, diverse designs and all the options there are with being a landscape architect."
Photo: Landscape architecture major Savina Echeverria stands beside a chair that her junior-year Design Studio Build class built as part of a final project. Photography by Joseph V. Labolito.