Back to Blog
October 27, 2023
Tyler Students Awarded IFMA Scholarships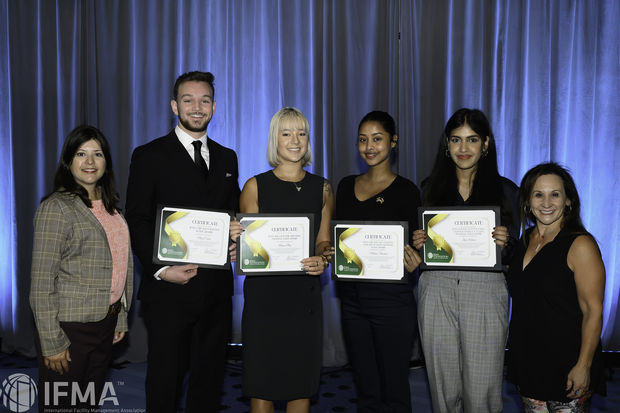 In the summer of 2023, four students in Tyler's Facilities Management program were awarded academic scholarships to attend the International Facility Management Association's (IFMA) annual World Workplace Conference & Expo – known as the largest facility management conference in the world.
The prestigious awards were granted to Noah Colón (BS '24), Oliwia Pine (BS '24), Zara Abbasi (BS '24), and recent alum Maina Sharmin (BS '23). The scholarship included a cash award along with fully subsidized travel, registration, and participation in World Workplace 2023. This year's conference was held September 27-29 at the Colorado Convention Center in Denver.
As the students shared, attending IFMA was a chance to delve into the real-world applications of their Facilities Management coursework. A highlight of the conference was the Ignite FM Challenge, a fast-paced competition that entailed proposing a solution to an actual industry issue.
"I found this to be great experience with a hands-on problem, and a taste of what we may end up doing within our careers," Pine said.
Groups were given three hours to conceptualize a solution and create a nine-minute presentation for other conference attendees and a panel of judges.
"While this was a fantastic team-building exercise with recipients from all over the world, it also gave us an opportunity to directly apply the skills and knowledge that we've gained from our courses at Temple to a real issue that corporations are facing today," Colón said.
As Abbasi shared, another noteworthy aspect was interacting with fellow IFMA awardees from around the world. She expressed a strong sense of pride in being among this year's 43 global scholarship recipients.
"Being in a room filled with individuals who share my aspirations and career objectives was an incredibly rewarding experience," she said. "I formed meaningful connections for my professional career, but also made some personal friendships."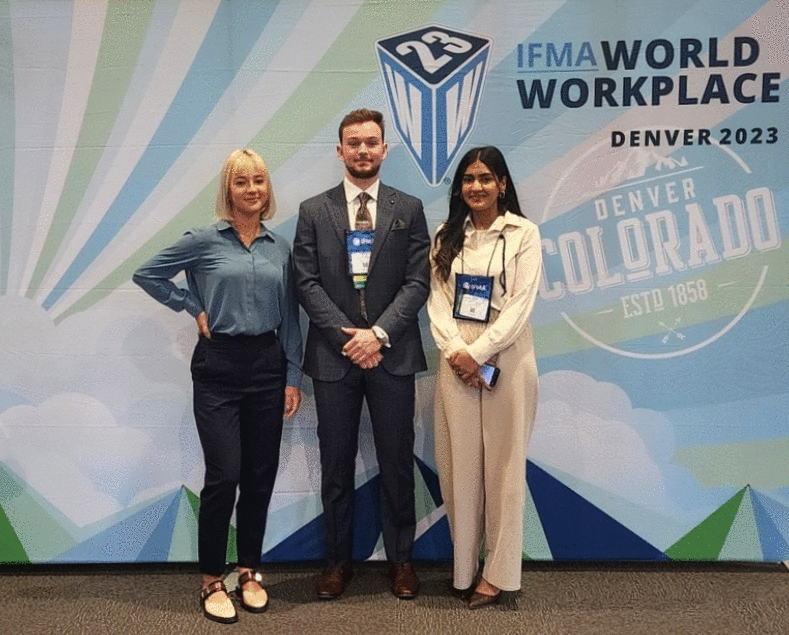 The packed conference itinerary included educational sessions, panel discussions, an FM technology expo, and social events. The awardees attended a Great Gatsby-themed gala at the Denver Museum of Art and took a tour of Empower Field at Mile High Stadium, home of the Denver Broncos. Pine and Abbasi also joined the Canadian IFMA chapter on an excursion to the renowned Red Rocks Amphitheatre.
"The exposure to professionals in a wide range of different concentrations and regions led to remarkably interesting conversations," Colón said. "And what better place to network than an NFL stadium?"
In all, the students returned with new knowledge, broadened networks, and memorable experiences to bolster their professional ambitions.
"The most beneficial aspect of this opportunity to me was making so many connections with Facilities Management professionals from all around the world and from various companies," Pine said. "These are connections I will maintain and use to my advantage in my future career."
Many employment and internship opportunities were also made available to the scholarship recipients through the conference, Pine added.
For Colón, learning about the career trajectories of various industry professionals was an especially valuable takeaway. At IFMA, he encountered former military personnel, tradespeople, corporate employees, and designers, and heard about how they ended up in their current roles.
"I chose to concentrate in Facilities Management because of the flexibility and variety of skill it provides to students," he said. "Seeing these different fields of experience and expertise connect in one environment will be greatly beneficial as I develop my career in the future."
With graduation approaching, Abbasi hoped to gain insights into potential career paths at IFMA. The trip proved "highly advantageous" for her personal and professional development.
"The IFMA experience not only broadened my horizons, but also opened numerous doors that will undoubtedly contribute to the advancement of my future career long after I complete my academic journey," she said.
Captions: Noah Colón (BS '24), Oliwia Pine (BS '24), Maina Sharmin (BS '23), and Zara Abbasi (BS '24) at IFMA World Workplace 2023; Oliwia Pine (BS '24), Noah Colón (BS '24), and Zara Abbasi (BS '24) at IFMA World Workplace 2023