Back to Blog
December 2, 2021
Visual Studies Celebrates Program's 10th Anniversary with Special Exhibition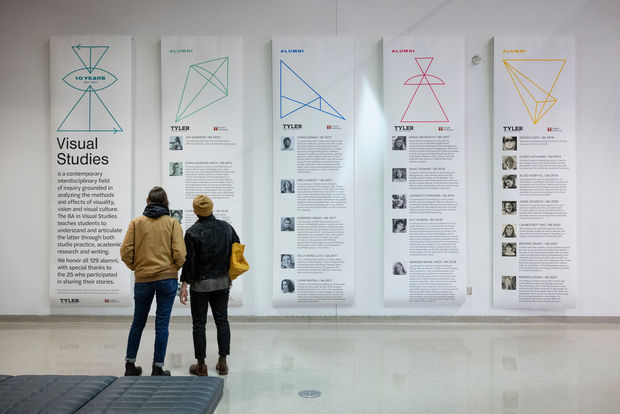 Tyler's Visual Studies BA program marked its 10th anniversary with a special exhibition last month in Tyler's Green Hallway and towering, 13-foot banners celebrating the achievements of prominent alumni of the program. The exhibition, which displayed the breadth of artistic practice in the major, doubled as the program's first thesis showcase, and featured pieces that explored students' interest in social events, climate issues, and BIPOC representation in media. On Dec. 2, Program Head Dr. Leah Modigliani will also host a virtual lecture titled "What Is Visual Studies?" to further examine one of Tyler's newest and most immersive majors. (Click here to watch the previous webinar Dr. Modigliani hosted).
Students interested in pursuing Visual Studies must declare their major during their first year, something that is unique from all other programs. Dr. Modigliani explains that there's no specialization as with a BFA in painting, printmaking or another studio art, and Visual Studies majors have more time to figure out their practice this way. She says that working with the Admissions Office to find students with early inclinations about their artistic direction as well as those who also have strong interests outside of the arts, such as politics or the environment, typically yields the best candidates.  
For this reason, Visual Studies, according to Dr. Modigliani, is a relatively new interdisciplinary field. Since emerging in the 1990s thanks to the rise of digital content, Visual Studies examines how we as viewers absorb everything we see. From advertising to media — all concepts that are especially intertwined with our political and social understanding of the world around us.  
Much of the artwork in the Visual Studies 10th Anniversary Exhibition revolved around themes of climate crisis, social media, and political infrastructure. Yingyu Che (Visual Studies BA '21) digitally printed and displayed several Instagram-styled grids that reflect the way life is perceived online. Grace Fiorella (Visual Studies BA '21) married her passion for environmental studies with visual art to create her piece, a text-based display titled "Causes and Consequences." 
The event also featured banners designed by Lauren Bottino (Visual Studies BA '20), which drew inspiration from 19th century illustrations of optics and how the eye perceives light. Chris Canan (Visual Studies BA '17) designed T-shirts to commemorate the anniversary. 
No two projects featured in the thesis exhibition were alike, which is reflective of the program. The classes are intentionally interdisciplinary and include seminars that discuss identity, story narrative, site and place, and global citizenship. With a combination of critical reading and artistic practice, students learn how to create something that is at once creative, theoretical and pragmatic. 
Click here for more photos from the thesis exhibition.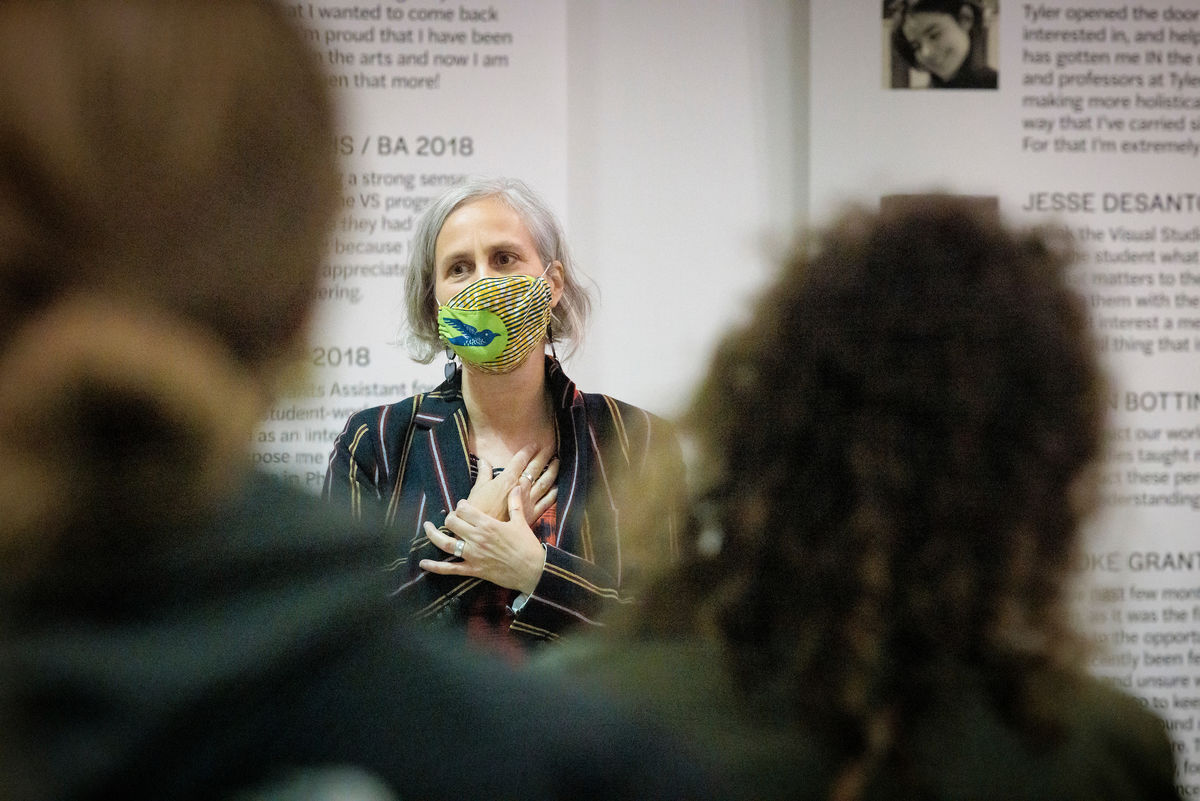 In frame: Department Head Dr. Leah Modigliani