Back to Blog
November 2, 2021
The Whitney Museum Presents a Major Survey of Works by Alumna Jennifer Packer (BFA '07)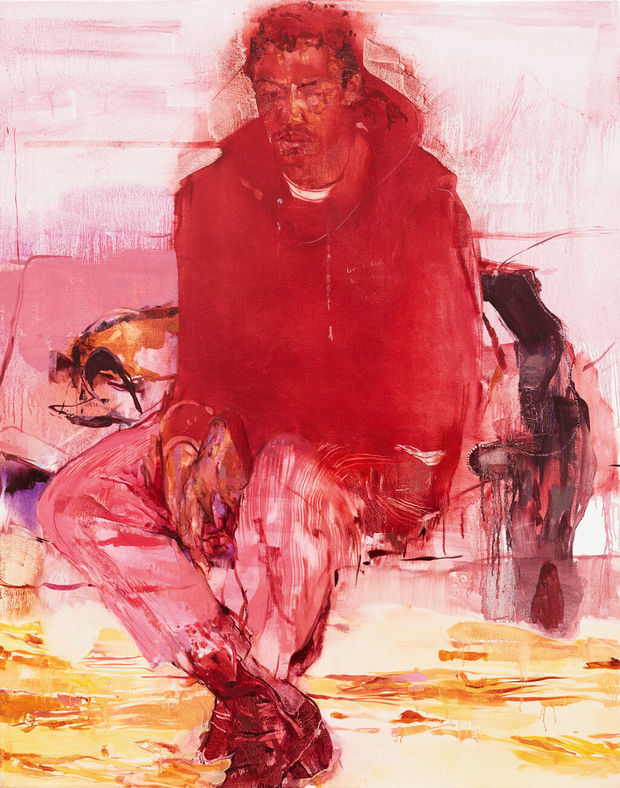 This fall, the Whitney Museum presents Jennifer Packer: The Eye Is Not Satisfied With Seeing, the first major solo museum exhibition in New York for Tyler alumna Jennifer Packer (BFA '07). Coming to the Whitney from London's Serpentine Gallery, the exhibit is the largest survey of Packer's work to date, featuring over 30 drawings and paintings from the last decade that examine practices of observation, memory, and improvisation. The show's title is in reference to the biblical verse Ecclesiastes 1:8.
Packer's images of friends, family, and flowers emphasize the exhaustiveness of traumatic cycles as well as the desire to be seen despite them, and also reflect themes of fidelity and freedom through emotive portraiture. The exhibition title references Ecclesiastes 1:8 and points to the idea of an insatiable desire for knowledge through sensory experience and the significance of bearing witness.
Packer has an ability to blend these traditional processes with her own personal experiences, particularly inequality against the Black community. "My inclination to paint," Packer has said, "especially from life, is a completely political one. We belong here. We deserve to be seen and acknowledged in real time. We deserve to be heard and to be imaged with shameless generosity and accuracy."  
Many of Packer's portraits show the subject unaware that they're being watched, which emphasizes a sense of "casual intimacy" in order to capture a most authentic self. Her paintings often use a limited color palette that sometimes allows the subject to exist in the liminal space between the foreground and the background. The exploration of the art historical genres of portraiture and still life is also intertwined with the politics of representation, which propels the sense of acknowledgment that Packer drives for in her work.  
Jennifer Packer: The Eye Is Not Satisfied With Seeing was initiated by Serpentine in London, and organized for the Whitney by Rujeko Hockley, Arnhold Associate Curator, and Jane Panetta, Curator and Director of the Collection, who presented Packer's work at the Whitney for the first time as co-curators of the 2019 Biennial. The exhibition will be on view in the Museum's eighth-floor Hurst Family Galleries from October 30, 2021 to Spring 2022.
Jennifer Packer, The Body Has Memory, 2018. Oil on canvas. Whitney Museum of American Art, New York. Image courtesy Sikkema Jenkins & Co., New York, and Corvi-Mora, London