Back to Blog
December 13, 2021
Associate Professor of Architecture Eric Oskey Designs Award-Winning Hall for Saint Joseph's University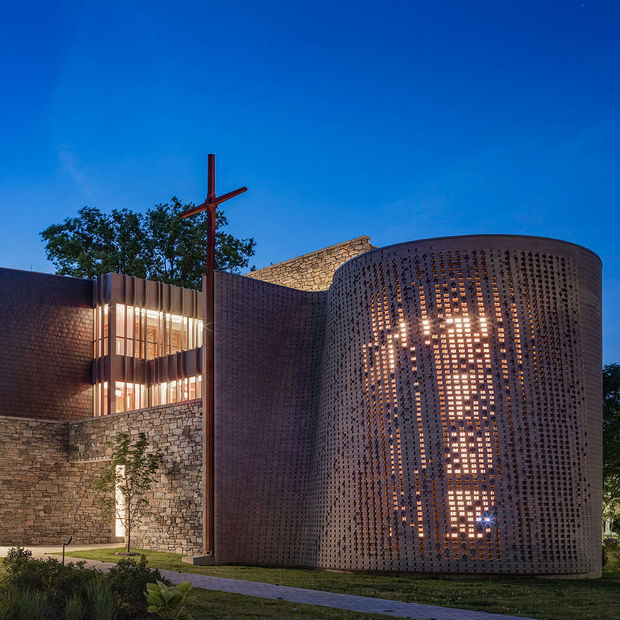 Associate Professor of Practice Eric Oskey, RA, and his award-winning firm Moto Designshop have recently finished a commission for Saint Joseph's University, Arrupe Hall. A Jesuit residence hall and place of worship, the intricate brickwork and modern façade are standouts along the campus's Lapsley Lane.  
Recently profiled in The Philadelphia Inquirer by Inga Saffron, this resurrection of strong religious architecture emphasizes the importance of tradition as well as the ability to take creative liberties on a large-scale university-funded project. Oskey and Moto Designshop were required to use the same materials found on other houses on Lapsley Lane — slate, brick, and Wissahickon schist — but were also permitted to craft something unique within those guidelines.  
Arguably the most notable aspect of Arrupe Hall is its cylinder brick screen, one of Moto Designshop's signatures. This one, however, articulates the Julian and Gregorian calendars. Cleverly, the pattern of the brick screen tracks Christianity's history. It's not apparent by looking at it, but the elaborate display is one of several reasons why Arrupe Hall has won Moto Designshop the 2021 Divine Detail award from AIA Philadelphia as well as the AIA Tri-State Merit Award, AIA Pennsylvania Honor Award, and two Interior Design Magazine "Best of the Year" awards. 
Intended to house independent Jesuits who live and practice on Saint Joseph's campus, Arrupe Hall's interior features 15 rooms, communal spaces for cooking, dining, and recreation, all of which revolve around a picturesque spiral staircase. The hall's intimate chapel features white oak-paneled walls, a concrete altar, and a crucifix by Deborah Luke. The space is intended to feel communal and friendly because it brings together priests from different areas of the Jesuit community.  
Though Moto Designshop is known for its glamorously constructed rowhomes, such as their famous double-wide house on the 2200 block of Catharine Street in Southwest Center City, Arrupe Hall manages to encompass both a delicate sense of upscale modernism and a respectful sparsity both inside and out. 
Photo courtesy of Moto Designshop