Back to Blog
August 26, 2022
Tyler Faculty Recognized for Summer Achievements and Exhibitions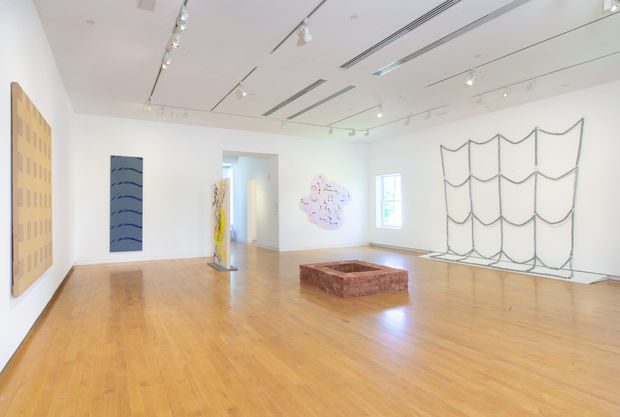 Tyler faculty across Sculpture, Art History, Painting, Ceramics, and Architecture programs have been recognized for their work and research in their fields with national and international exhibitions, publications, and accolades. The consistent affirmation that Tyler's professors receive within the art and design worlds helps to inform their teaching and connects students to real-world opportunities beyond their education.
---
Professor of Painting Dona Nelson exhibits work at The Aldrich Contemporary Art Museum and Thaddaeus Ropac Gallery
Influential American painter Dona Nelson is showing work in The Aldrich Contemporary Art Museum's 52 Artists: A Feminist Milestone (pictured above) to celebrate the 51st anniversary of the historic exhibition Twenty Six Contemporary Women Artists, which was on view at The Aldrich in 1971. The original show gave a platform to emerging female artists who were struggling to overcome the "discriminatory policies of most galleries and museums" at the time, the exhibition's overview states. Nelson was involved in that iconic exhibition, and later would become one of the most influential abstract feminist painters. The 1971 exhibition inspired a "host of other feminist exhibitions throughout the 1970s," which affirmed Lucy Lippard its visionary feminist curator. 
Nelson's paintings have been written about in The New York Times, The New Yorker, Art in America, the Los Angeles Times and many other publications. She has been the recipient of numerous grants and awards, including a Guggenheim Fellowship, a grant from the Foundation for Contemporary Arts and an Artist Legacy Foundation Grant. Nelson's work is included in the  public collections of the Metropolitan Museum of Art and The Boston Museum of Fine Arts, among others. In 2021, Nelson received the College Art Association's prestigious Distinguished Teaching of Art Award for demonstrating the inseparability of teaching and artistic practice.
52 Artists: A Feminist Milestone is on view from June 6-January 8. Click here for a podcast interview with Nelson about her involvement. 
Nelson is also involved in the group show Saturation at Thaddaeus Ropac Gallery, curated by Oona Doyle, until September 24. Inspired by the "expressive power of color," the show presents "the work of women artists, decentring abstraction from a historically male-dominant perspective," the gallery says. Curator Oona Doyle explains that the common threads between these artists lie in their connections to poetry, literature, and music. 
Nelson is displaying work from her Two-Sided Paintings series, which have been described as "dizzying," and reflective of "the sensory overload of living in a city," according to poet and art critic John Yau. The show also features work from other major Abstract Expressionist painters Han Bing, Wook-Kyung Choi, Mandy El-Sayegh, Martha Jugwirth, Rachel Jones, Megan Rooney, and Thu-Van Tran.
Click here for Saturation's exhibition video from the gallery.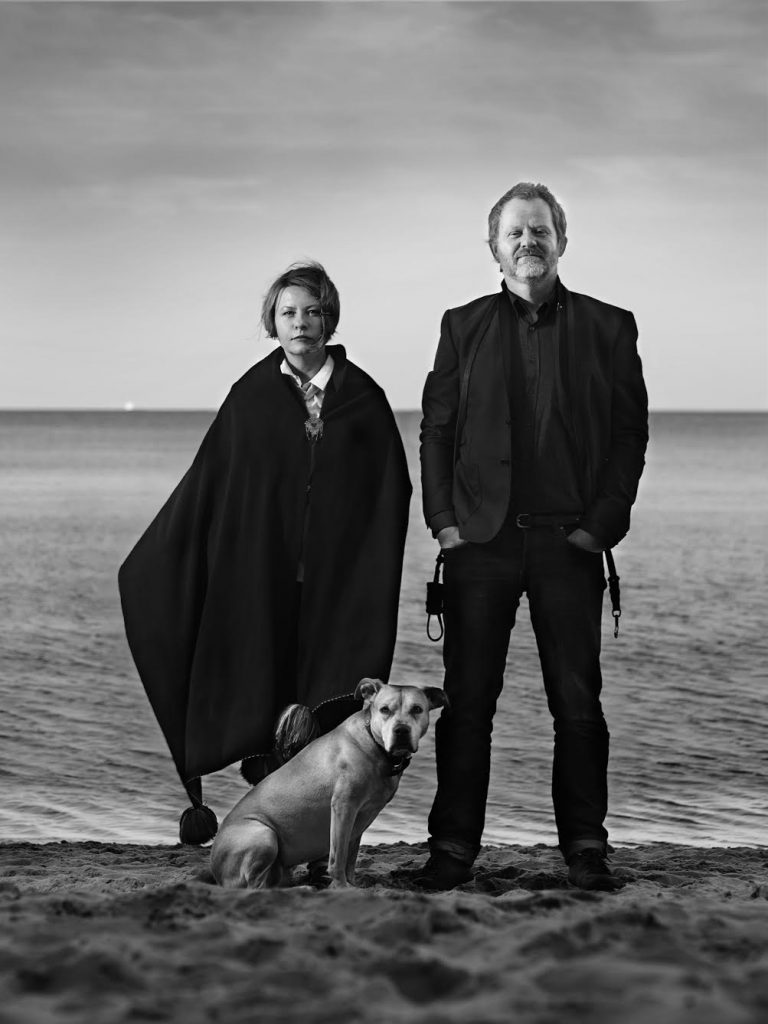 C.T. Jasper and Joanna Malinowska, courtesy of Cornell University
Program Head of Sculpture C.T. Jasper exhibit in Cornell University 2022 Biennial
This fall, Sculpture Program Head C.T. Jasper and his collaborator Joanna Malinowska are showing a new media installation titled Awakening of Birds as part of Cornell University's 2022 Biennial. Based on the 1953 composition Réveil des Oiseaux (Awakening of Birds), written by Modernist composer Olivier Messiaen (1902-1982), Jasper and Malinowska attempt to undo Messiaen's transcription process, which used bird calls from 38 different species, and to remove all evidence of man-made musical instrumentation. The installation takes the form of a sonic montage that follows the structure of the piano and orchestra composition but is comprised entirely of the original bird calls. The Biennial's theme revolves around "celebratory imaginations and enactments of "Futurities, Uncertain," and is inspired by "global artistic response to technological and biopolitical hegemony," according to the Biennial's official statement.
Recently, Jasper and Malinowska collaborated on another sound installation, The Emperor's Canary (2018), an elegant, interactive outdoor display that was commissioned by the High Line in New York, as well as Who is Afraid of Natasha?, a depiction of a Socialist Realism statue of the same name for the 2021 Triennale Bruges.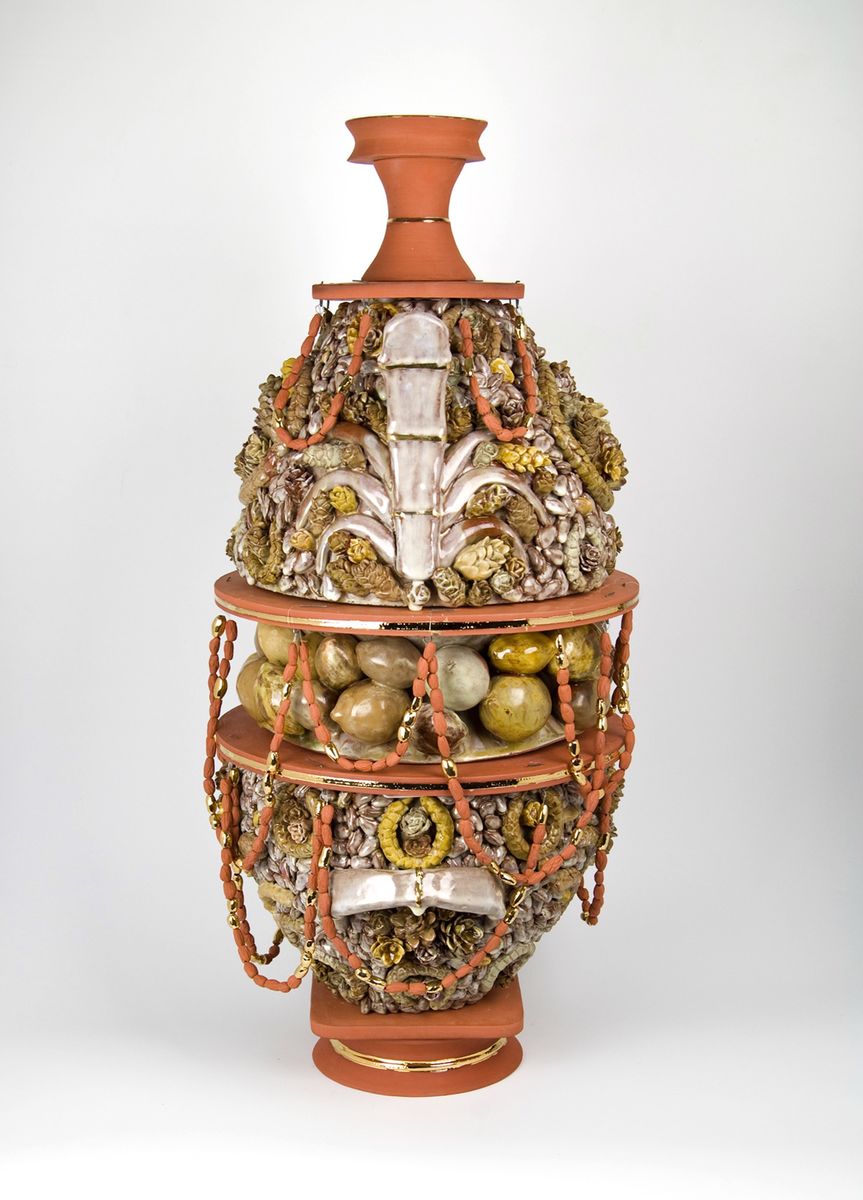 Lauren Sandler
Objects Migrations, 2022
Earthenware with glaze and gold luster
30 x 14 x 14 in
Program Head of Ceramics Lauren Sandler Exhibits at Eutectics Gallery and Hunter College
Program Head of Ceramics Lauren Sandler allowed her background in anthropology to inform her investigative, contemporary narrative of the vessel for a virtual showcase with the Eutectic Gallery in Portland, Oregon, in July. The pieces are assembled using stacked parts and a variety of cultural objects. The show uses the easily-recognizable form of vessels as a neutral entry point into the deeper narrative that Sandler aims to tell. Eutectic Gallery wrote, "These pieces consider the extraction and production of tea, sugar, coffee, salt, and other systems to examine economies of control that constitute migration, occupation, commodification, and labor. With discursive content, the objects signify the monumental and mundane, function and adornment, domestic and sacred across time and place."
Later this year, Sandler will host a solo show at Hunter College in New York, and in 2023 will participate in a two-person show at the Richard F. Brush Gallery in Canton, New York.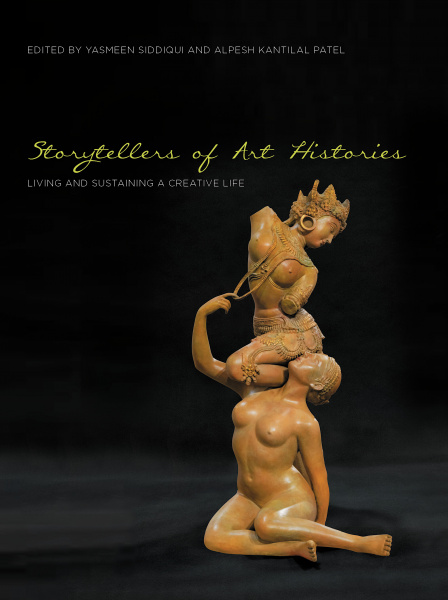 Storytellers of Art Histories edited by Yasmeen Siddiqui and Alpesh Kantilal Patel, courtesy of Intellect Books
Associate Professor of Art History Alpesh Patel publishes Storytellers of Art Histories with Intellect Books
Associate Professor of Art History Alpesh Patel's latest publication, Storytellers of Art Histories, co-edited by Yasmeen Siddiqui, amplifies the voices of art histories, curators, archivists, and artists with a particular focus on gender, race, class, sexuality, and transnationality — all historically marginalized topics. The book's contributors provide short, personal passages that discuss their passion for their practice and examine questions about equality and experience. Narratives are presented in a variety of ways — letters, grant applications, images, interviews, even apologies. 
Patel will be presenting themes from Storytellers of Art History at Philadelphia's Fabric Workshop Museum on October 18.
Patel currently serves on the Editorial Board of Art Journal, and has published articles in journals like e-misférica, GLQ: Gay and Lesbian Quarterly, and Journal of Asian Diasporic Visual Cultures and the Americas, among others. His art historical scholarship, curation, and criticism reflect his queer, anti-racist and transnational approach to contemporary art.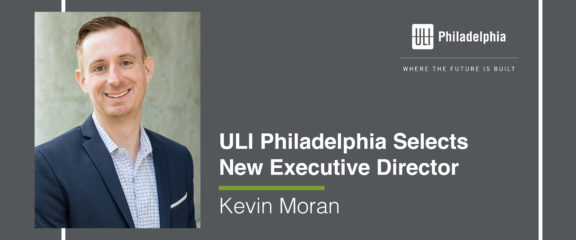 Kevin Moran, photo courtesy of ULI Philadelphia
Adjunct Professor in Architecture Kevin Moran named Executive Director of ULI Philadelphia
Kevin Moran was recently promoted from Senior Manager to Executive Director of the Urban Land Institute (ULI) in Philadelphia, a 501(c) (3) nonprofit research and education organization. His work with ULI supports sustainable and thriving communities throughout the Philadelphia region. With an extensive background in nonprofit management and economic development, Moran has also served as the executive director for the Northern Liberties Business Improvement District and Fairmount Community Development Corporation. Moran will continue to "shape the future of the built environment for transformative impact in communities worldwide," ULI wrote about his role. During his time with ULI, Moran has "led and grown ULI Philadelphia's technical assistance program, built the local product council network, was instrumental in supporting Diversity, Equity, and Inclusion initiatives, and has been involved with almost all strategic priorities and programmatic work during his tenure."
Moran continues to teach classes in Tyler's Architecture and Environmental Design Department, including "History of Form of Cities" and "Introduction to Community Development," and has lectured on topics such as community development finance, community-based development organizations, and business improvement districts.