Back to Blog
March 23, 2022
GAID Student Audrey Lee '23 Wins Changemaker Challenge Award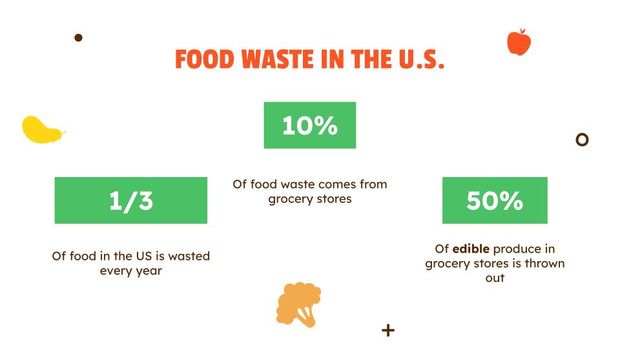 Audrey Lee (BFA '23) is using her education in Graphic & Interactive Design and Entrepreneurial Studies to find a more sustainable and practical way to end the overabundance of Philadelphia's food deserts, and her idea was recognized this month with a Changemaker Challenge Award from the Innovation & Entrepreneurship Institute at Temple's Fox School of Business.  
Click here to watch her idea pitch. 
What is your project about? 
"The project is called Growcery, and it's a food truck that aims to solve two problems: food waste and food deserts. Grocery stores in the U.S. throw out about half of their edible fresh food, while about 20 million Americans nationwide are living without access to nutritious groceries. Growcery collects food that would otherwise be wasted and delivers it to areas where grocery stores are not accessible."  
"A lot of people wonder what makes this different from existing food redistribution services like Philabundance. I actually had the chance to speak with Pam Rainey, the founder of Philabundance, who believes that Growcery could be a useful partner — not a competitor — to the organization. There are plenty of services out there already delivering and redistributing food, but none of them are selling it from the vehicle itself. Using a food truck would be more mobile, accessible, and affordable than building a brick-and-mortar food pantry." 
How did you come up with the idea and why is it meaningful to you? 
"The spark for the idea actually came from my Advanced Graphic Design class last year, with Professor Jenny Kowalski. In junior year, GAID students spend a semester designing a restaurant brand. This year, we began by researching the politics and ethics of food, and food redistribution was one thing that came up. It occurred to me then that a food truck could be a really effective solution for neighborhoods that don't have brick-and-mortar grocery stores." 
"The personal connection that inspired me to pursue the project came from my own experience with both grocery stores and food deserts. I'm originally from Vermont, and when I'm home I work at a regional grocery store chain. The company has a zero-waste policy, but instead of donating their safe/edible extra food they compost it. Meanwhile at school, my apartment is located far away from all the grocery stores, making it really difficult to access fresh food. One day I was struggling to figure out where to buy my fruits and veggies, when suddenly I remembered the trash cans full of produce at my job. I figured if a solution would be impactful to me, it might be even more impactful to someone with even more limited access to fresh food." 
How does this award inspire you to further your education? What are your future goals? 
"I'm incredibly grateful for the way that the Tyler GAID department prepared me to represent my college in this competition, from the After Effects skills I used in the pitch to the professors who let me take time out of class to meet with competition judges. This award has inspired me to keep exploring the intersections between design and other fields, as well as all the possibilities within the GAID major. I want to eventually pursue a career in art direction or project management, and Growcery was a great chance to exercise leadership and creative control over a multidisciplinary project. In the future, I want to keep pushing the boundaries of design and its applications in other areas. To me, design isn't just a discipline — it's a way of thinking, a way of breaking expectations and forging new ground in any field." 
What do you hope people take away from your project and ideas? 
"I hope that this project inspires other people to think about the change that they can create with their education. As students at this university, I believe we have an obligation to think about our place in the community, the city, and society at large. Temple offers us so many resources and skills, we'd be remiss not to consider our privilege and how we can direct it towards a good purpose. By being more aware of the issues that surround us, and by listening to the people who experience these issues, we can use our platform to make sure everyone's voices are empowered and elevated." 
How do you hope to inspire future learners?
"I really hope this inspires more Tyler students to step out of their comfort zone and try something outside of their discipline. I'm humbled and amazed every day by the skill and the quality of work that comes out of this college, and I think that students at Tyler and at Temple as a whole have the potential to change the world for the better (and already do!). A project like this is only the first step, and it's tiny compared to what we are all potentially capable of creating." 
Photo by Audrey Lee