Back to Blog
April 1, 2021
Landscape Architecture Students Win ASLA Merit Awards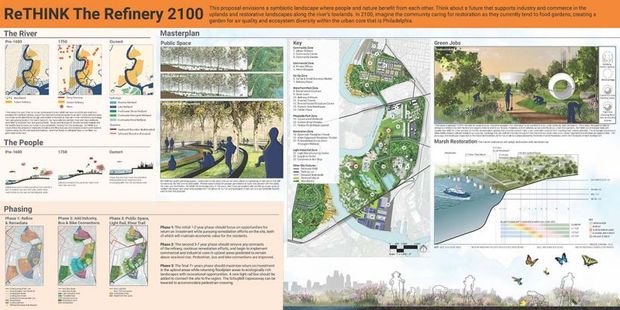 Landscape Architecture students, Sidney Buckingham, Alyssa Hannigan and Abigail Long, of the Tyler School of Art and Architecture have received Pennsylvania-Delaware American Society of Landscape Architects (ASLA) Student Merit Awards for their visionary projects that represent the bright future of the field.
Buckingham and Hannigan's project "ReTHINK The Refinery: 2100," is based on thorough environmental and social site analysis of Philadelphia Energy Solutions, the oldest oil refinery on the East Coast. The recommendations in the proposal embrace the potential for the site to become reintegrated into Philadelphia by harmonizing ecological restoration, community development and a growing economy.
Additionally, Buckingham and Hannigan will be presenting and discussing their research and project on ReTHINK at the 2021 Society for Ecological Restoration conference (June 21–24). "We'll be presenting about how a private-public partnership through ecological restoration can provide a resilient approach to land development on a site that will be heavily impacted by climate change," said Hannigan.
"We spent so much time on this project because we really believed in the ideas that we were exploring," said Buckingham. "It is so rewarding to get the opportunity to share it a bigger audience."
Long's project "Temple Terra" reimagines the public realm of Temple University by creating an iconic, multifunctional centralized gathering space for humans and other species. Designed during the height of COVID-19, this project seeks to create an outdoor educational environment with students affected by the pandemic in mind.
For the full announcement, click here.
Image: Buckingham and Hannigan's project "ReTHINK The Refinery: 2100."