Back to Blog
November 12, 2021
Scout Cartagena (BFA '22) Displays New Exhibit at DaVinci Art Alliance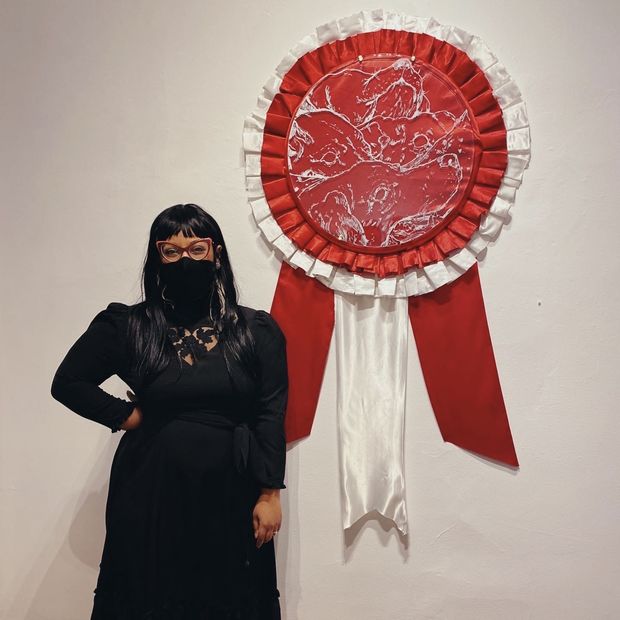 Scout Cartagena, (BFA '22), a 2021 DaVinci Fellowship recipient, is currently showing a collection of new works titled "You Have Their Eyes" at the DaVinci Art Alliance until November 24th, and themes of identity, memory, and connection play important roles in each piece. Recently profiled in the Philadelphia Tribune, Cartagena discusses their primary influences and how working as a Black non-abled person has defined their practice.  
This show is special to Cartagena because it bridges parts of their own upbringing with those of their family members, serving as a sort of metaphysical heirloom. After being diagnosed with HLH (Hemophagocytic lymphohistiocytosis) in 2014, Cartagena felt a sense of pressure to create whatever they could until the disease inevitably robs them of their memory and mobility. Genetic cognitive loss plays a key role in their history, and ironically enough, forgetting is something that has brought them closer to their father and grandmother, who both struggle with their own memory. 
The strong ties Cartagena feels to their Black heritage are directly juxtaposed with the lack of things left behind. They discuss the way that European-imposed slavery robs people of color of their right to physical heirlooms. Multimedia pieces made of paper, glass, and intentionally arranged furniture are directly reminiscent of Cartagena's family and a purposefully created heirloom of what those memories can mean to them before they're gone.  
Cartagena prides themselves in the multidisciplinary section of their work by the way that none of their pieces feels tied to one distinct medium. The freedom to explore practices, as well as the ability to feel equally represented within them, is what draws Cartagena to making and to teaching. Currently, they are student teaching at AMY 5 James Martin in Port Richmond. While pursuing their BFA, Cartagena hopes to pass along both a passion and understanding that art is a practice to their students. Establishing a sense of pride and importance through their own work is what fuels so much of the personal themes found throughout this exhibit.  
Cartagena has received Tyler's Jon Clark Glass Scholarship (2019), a scholarship to the Haystack Mountain School of Crafts in Deer Isle, Maine (2019) from the Tyler Glass program, and was nominated for the Windgate Fellowship (2020), a prestigious grant given to 10 graduating college seniors by their professors.
You can watch a walk-through of "You Have Their Eyes" here, and visit the exhibit at the DaVinci Art Alliance now through November 24th.  
Photo courtesy of Scout Cartagena