Back to Blog
April 27, 2021
Tyler Alumnus Wins Prestigious Rome Prize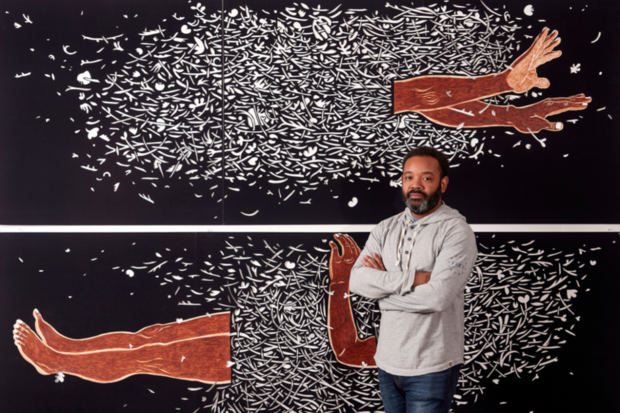 Tyler School of Art and Architecture alumnus William Villalongo (MFA '01) has recently been awarded a prestigious 2021–2022 Rome Prize—a highly competitive fellowship that supports advanced independent work and research in the arts and humanities. Each of the 35 artists and scholars awarded a Rome Prize will receive a stipend, workspace and room and board at the Academy's eleven-acre campus in Rome, Italy, in September 2021.
"We welcome these Rome Prize winners and Italian Fellows who enter an increasingly global and diverse residential community, reflecting the complexity of U.S. culture abroad," said American Academy in Rome President Mark Robbins. "The support for these scholars, artists, writers, composers and designers strengthens the arts and humanities at a time when this is ever more critical."
Villalongo is a painter, printmaker, sculptor, installation artist and curator, as well as an associate professor at The Cooper Union School of Art. Working out of the notion of Blackness as a verb, he reframes familiar images, events and themes in our cultural landscape while exploring dualities like male/female and visibility/invisibility, intentionally appropriating from areas like ancient mythologies and contemporary politics. 
Villalongo is the recipient of several prestigious honors, like the Louis Comfort Tiffany Award; the Joan Mitchell Foundation Painters & Sculptor's Grant; a NYFA Artists Fellowship; and, earlier in 2021, an Art Purchase Program Prize from The American Academy of Arts and Letters, which helps place the work of talented, living American artists in museums across the country.
Image: William Villalongo in front of his works (from top to bottom), ZERO GRAVITY 1 and ZERO GRAVITY 2. Photo courtesy of Argenis Apolinario Photography.