Back to Blog
March 25, 2021
Community Arts Practices Addresses Inequities Created by Climate Change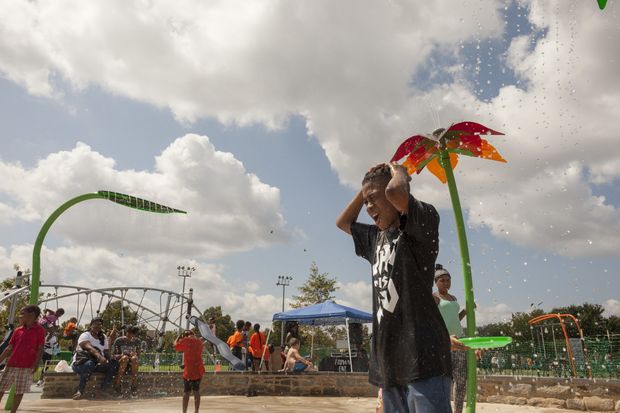 The Tyler School of Art and Architecture's Certificate in Community Arts Practices (CAP) is hosting a workshop series called "HEAT Response" that will illuminate an arts and civic engagement project addressing climate change and environmental racism in three Philadelphia neighborhoods hit hardest by excessive heat: Fairhill, Southeast Philadelphia and Gray's Ferry.
"It's been exciting and transformative for our students to find their creative voices in neighborhood mapping and visual production, facilitating climate justice arts workshops for youth, creative research and documentation," said Billy Yalowitz, associate professor of Community Arts Practices. "Students are using their arts disciplines to help to tell crucial stories."
Two CAP students are interning with Amber Arts & Design—a leading Community Arts studio in Philadelphia—writing and illustrating a graphic climate justice novella/coloring book based on neighborhood stories and poetry from the Fairhill neighborhood close to Tyler.
"Having grown up in the city, I had a direct connection to this project and have faced similar issues these communities are facing regarding the lack of green space and resources in their neighborhoods," said Temple student Kenza Bousseloub (BA '20), who co-led the creation of the coloring book. "This CAP program has been extremely helpful to my background study of journalism and as a filmmaker and artist. It has been important to me in how I view myself as an artist and how important that is in creating awareness in communities through the practice of artistic activism."
"I hope the book can be a tool for people of any age to engage with a serious issue facing their community in a way that reminds them of how resilient that community is," said Visual Studies student Holly Hazell (BA '22). With a background as a comic book writer and illustrator, Hazell's role has been to take the lead on the interactive book's visual design, which will feature a host of talking plant characters inspired by plants that can be found in and around Fairhill. The book also includes writing and drawing prompts, coloring pages and scavenger hunts—all with the goal of understanding the issues of urban heat islands, redlining and environmental justice. Those who attend the April 2nd Open Studio will get a first glimpse of the book in-progress.
"Participating in the Heat Response project has opened my eyes to the issue of extreme heat in cities," Hazell said. "So much of engaging with a community is rooted in listening and learning. The CAP program has been invaluable in terms of defining how I think about people and the world in relation to myself as an artist."
The Events
In addition to the Tyler and Temple communities, the public is welcome to participate in the following HEAT Response events:
On April 2, "Open Studio" will allow the public to experience the work of leaders in arts-based climate justice work, including artists and grassroots leaders from Philadelphia neighborhoods; Tyler CAP students, the Trust for Public Land, and lead artist Eve Mosher—an American environmental artist best known for her public art installation HighWaterLine.
On April 17, "Work Day and Teach-In: Urban Gardening, Cleanup, and Climate Justice Canvassing" will allow the public—who meet health and safety regulations associated with COVID-19—to get hands-on with the HEAT Response team. Participants will work in community gardens and lots while learning about climate justice, reclamation and climate remediation.
HEAT Response is sponsored by Tyler's Department of Art Education & Community Arts Practices and Temple University's Office of Sustainability, with support from Temple's General Activity Fund. The events are open to the public with priority given to current Temple students, faculty and staff.