Back to Blog
January 19, 2022
Esteemed Artists and Designers Fill Tyler's Spring Lecture Series Schedule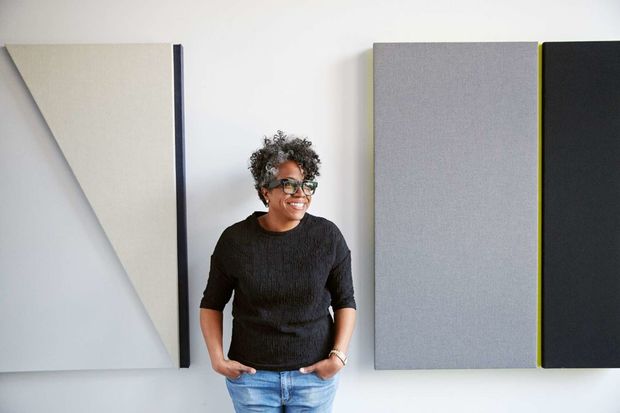 This Spring, the Tyler School of Art and Architecture welcomes several distinguished artists and scholars to speak at the school and engage with students. These speakers represent a diverse range of practices, focusing on everything from Afrofuturistic architectural design, unconventional blending of visual art and sound, to abstract figure drawing and modernized Indo-Persian miniature painting styles.  
On January 26, Critical Dialogues will feature New York-based Pakistani artist Shahzia Sikander, best known for her founding role in the "Neo-miniature" movement. She blends South Asian, American, Feminist, and Muslim perspectives with her Indo-Persian miniature painting practice, posing the theory that culture and identity are ever-evolving. Click to watch "Shahzia Sikander: Extraordinary Realities" from The Morgan Library and Museum.  
The Painting program welcomes Margo Margolis Visiting Artist, Sarah Faux on February 2. Living and working in Brooklyn, Faux implements bright color palettes and abstract forms when creating her own renderings of the human body. She encourages an explorative point of view and non-traditional perspective.  
This year's highly anticipated Wolgin Lecturer is interdisciplinary artist Jennie C. Jones, speaking on February 23. Her practice combines a minimalist visual style with sound — typically, jazz music. She has exhibited at The Arts Club of Chicago and the Hirshhorn Museum and Sculpture Garden at The Smithsonian, among other esteemed institutions.  
On March 10, Brooklyn-based Afrofuturist Olalekan Jeyifous will present the annual Brigitte Knowles Annual Architecture Alumni Lecture. He will discuss his process, practice, and broad creative trajectories from public art installations to speculative architectural re-imaginings. Working in a variety of media, his artistic productions examine contemporary socio-political, cultural, and environmental realities through the tradition of architectural utopianism, from a sci-fi-inspired and Afro-surrealist lens. 
Tyler's Critical Dialogues series has brought hundreds of leading practitioners, scholars, curators and other arts professionals to speak over the last two decades. AED Presents is in its third year as a combined series of architecture, landscape architecture and city planning lectures. The Margo Margolis Visiting Artist in Painting lecture brings an emerging painter to Tyler's campus and is presented by Critical Dialogues, thanks to an anonymous donor. The Jack Wolgin Annual Visiting Artist Symposium is supported by the Wolgin Endowment at the Tyler School of Art and Architecture.  The Knowles Architecture Alumni Lecture was established in 2013 in honor of Brigitte Knowles, professor emeritus.  
 
Find the full schedule of speakers on the Tyler Events Calendar. 
Photo credit: Jennie C. Jones, courtesy of the artist