Back to Blog
March 12, 2021
Karyn Olivier Wins Commission at Bethel Burying Ground Historic Site Memorial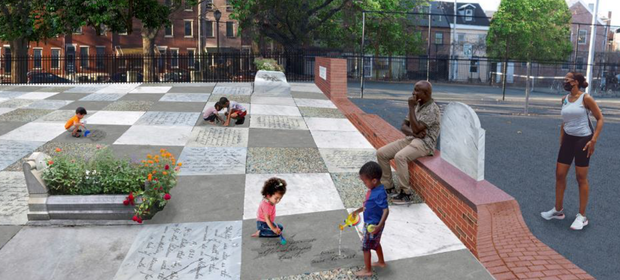 Karyn Olivier, associate professor of Sculpture at the Tyler School of Art and Architecture has won a commission by The City of Philadelphia's Office of Arts, Culture and the Creative Economy (OACCE) and the Bethel Burying Ground Historic Site Memorial Committee for her memorial design entitled Her Luxuriant Soil.
"Karyn's proposal is not only a memorialization of our past, but it also communicates what we value as a city," said Philadelphia Mayor Jim Kenney. "When they view Her Luxuriant Soil...visitors...will understand that the City of Philadelphia truly values the diversity of our history and the contributions of African Americans."
In an announcement made yesterday, March 12, 2021, the OACCE describes the memorial, which will celebrate the more than 5,000 African Americans buried at the historic location in Weccacoe Playground in the Queen Village neighborhood of Philadelphia. The design will include many elements, like a 19th-century style cemetery entrance gate; white granite and concrete pavers engraved with inscriptions of the biographies of those interred as well as blank ones to represent the stories of those yet to be told; and a bench that will include a granite "headstone" inscribed with Bethel Burying Ground.
This commission builds on Olivier's strong reputation as a dynamic leader in public art and in the exploration of contemporary social issues. In 2020, Olivier won a commission to honor Dinah, a once-enslaved woman who lived in Philadelphia's historic Stenton House during the Revolutionary War. She has designed site-specific installations of public art around the world (including Florence, Italy; Lexington, Kentucky; New York City; and Philadelphia).
To read the entire article from OACCE and view more renderings of Olivier's design, click here. To read the story in the Philadelphia Inquirer, click here.
Image: Rendering of Bethel Burying Ground Memorial design Her Luxuriant Soil by Karyn Olivier.