Back to Blog
November 3, 2021
Tyler Community Sustains Vibrant Presence on the International Art and Design Stage Throughout 2021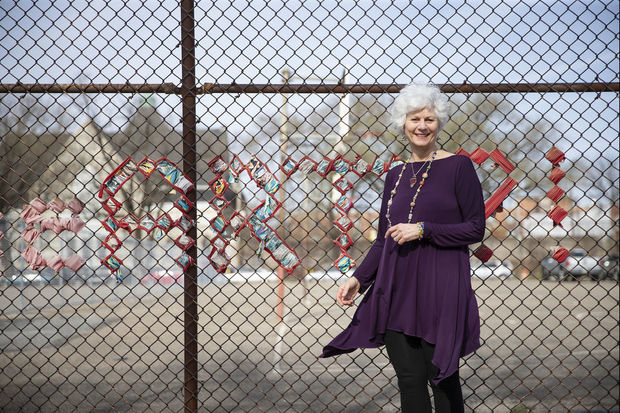 In a recent issue of NAEA's  Translations,  Associate Professor Lisa Kay shares field research and techniques to better equip art teachers working with trauma in the classroom. Kay examines the ways teachers can help adolescents cope with stress and anxiety while encouraging creativity and resilience. Kay and co-author Donalyn Heise shared their research in their article titled Trauma-Informed Art Education: Caring for Learners and Each Other, which includes art-based strategies to support social-emotional learning.  

Doug Bucci, Islet | Mnemonic Device, Artist Proof, 2019, Ring, Vermeil over sterling silver. Photo by Ken Yanoviak
Professor Doug Bucci's digitally-formed metal works are on view in Ring Redux at the Savannah College of Art and Design Museum of Art through Jan. 2022, and Decorative Digitalism at Gallery Ah-won, in Seoul, Korea, through Nov. 28, 2022. The exhibit displays the Susan Grant Lewin Collection, made up of more than 100 avant-garde rings that exemplify a reimagining of classic jewelry-making techniques. Rings that challenge design, material, workmanship, geometry, and form are all juxtaposed against each other to create a rich narrative. The exhibit also includes a major gift of 50 rings to the SCAD Museum of Art Permanent Collection. 

C.T. Jasper and Joanna Malinowska's installation, Who's Afraid of Natasha? on view at the 2021 Bruges Triennial. Photo by Mattias Desmet.
Assistant Professor and Head of Sculpture C.T. Jasper and his longtime collaborator, Cornell University Professor of the Practice Joanna Malinowska, partnered on a video and sculptural installation titled Who's Afraid of Natasha? for the 2021 Bruges Triennial in Belgium. The exhibition is a reimaging of the original "Natasha" statue that stood in the Tadeusz Kościuszki Square in Gdynia, Poland from 1953-1990 and served as a celebration of the Soviet-Polish alliance during WWII. Now, Jasper and Malinowska's version of the statue examines the relationship between collective trauma and the effect a monument has on viewers.  

Assistant Professor of Architecture and 2020–2021 Fulbright scholar Gabriel Kaprielian
Tyler Assistant Professor of Architecture and 2020–2021 Fulbright scholar Gabriel Kaprielian is using board games, interactive digital media, and virtual reality to investigate sea level rise and speculate about the future of our urban waterfronts. While working on his thesis in the San Francisco Bay Area while at UC Berkeley, he was interested in studying how to protect communities against sea level rise and maintain tidal wetlands and North America's most important ecosystems. That pitting of the natural and built worlds against each other drives much of his research. The board game he created, Sea-Level Hi-Rise!, presents a series of challenges: regional versus local governance, built versus natural environment, and more. The game informs the players and cultivates conversations around how best to approach these issues.   

Alex Strada, Proposal for a 28th Amendment? Is it Possible to Amend an Unequal System? at the Queens Museum. Photo courtesy of the artist.
Assistant Professor Alex Strada's installation Proposal for a 28th Amendment? Is it Possible to Amend an Unequal System? is on view as part of the Year of Uncertainty  at the Queens Museum, now until Feb. 2022. The exhibit is framed around imagined amendments to the U.S. Constitution, gathered through public workshops with direct participation from viewers. Structured with various soapboxes and listening stations, Queens-based legal scholars and community partners will be leading the conversations. Strada collaborated with Tali Keren in this multi-media participatory work.  

Kara Springer, Untitled, Ten Days Before Freedom, 2018. On view in the 2021 Texas Biennial. Photo courtesy of the artist.
Alumni Kara Springer (MFA '17) and Trenton Doyle Hancock (MFA '00) are exhibiting in the 2021 Texas Biennial: A New Landscape, A Possible Horizon, which explores the mutable histories contained within objects and people, activism and issues of racial and social justice, and narratives unique to the history and land of Texas. Springer specializes in photography, sculpture, and site-specific interventions that engage with architecture, urban infrastructure, and systems of institutional and political power. Hancock works around a part-fictional, part-autobiographical outlook in the way he crafts his own experiences around historical canon and pop culture references. His style ranges from comic strip sketching to graffiti to pen and ink. 

Jeffrey Meris, Catch a Stick of Fire II, 2021. On view at Socrates Sculpture Park. Photo: Mark Brems Tatti.
Jeffrey Meris (BFA '15) is showing his latest sculpture, Catch a Stick of Fire II, at the Socrates Sculpture Park in Long Island, New York. The piece examines Meris's acts of self-care that he took on during the last year in order to cope with a global pandemic and the Black Lives Matter movement. with references to things like Mario video game characters, plant propagation, and ceramics, Meris's piece instills a sense of necessary growth and cultivation in order to heal through the traumas of systemic violence.