Back to Blog
April 27, 2020
Meet Tyler's Virtual Celebration Speaker: Jordan Bertok (BA '20)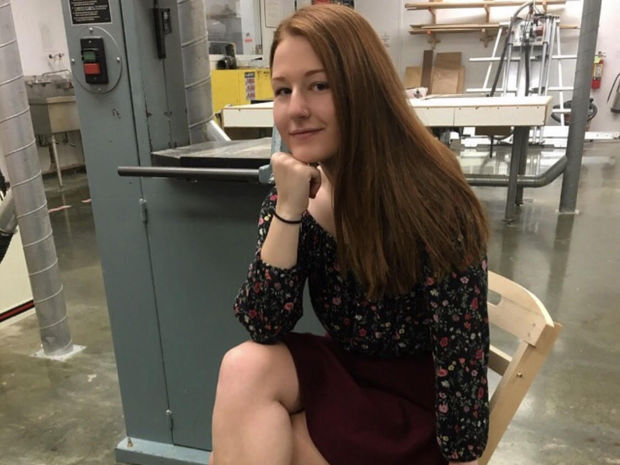 Jordan Bertok, a member of the Tyler School of Art and Architecture's Class of 2020 and soon-to-be recipient of a BA in Art Therapy and Minor in Art History, will address her class as Tyler's student speaker as part of Temple University's virtual celebration. 
You can watch Bertok's speech here.
Bertok "met up" with a recent Tyler graduate, Princeton Cangé (BFA '19, Sculpture), on Zoom for a Q&A, which you can read below:
Princeton Cangé: Why did you come to Tyler? Was it your first choice?
Jordan Bertok: Yes, Tyler was my first choice. I came in as a Visual Studies major, knowing I wanted to eventually go to graduate school for a MA in Art Therapy. At the end of my freshman year, they announced that Tyler would be introducing an undergraduate Art Therapy program, so I immediately transferred into it my sophomore year! There aren't many art therapy undergraduate programs in the United States, so I was absolutely thrilled to be a part of this new major. 
PC: It seems that most students I know have switched majors, added unanticipated minors, and have generally taken some unexpected paths. What, if anything, changed for you personally and artistically while in Tyler? 
JB: My interest in art history definitely changed. The Art Therapy program requires us to take several art history courses. Then when I studied at Temple Rome, I took additional art history classes. I ended up taking all of the classes that seemed fun and gathered enough credits to receive my minor.
PC: Is there a Professor that had a big impact on you and the way that you think about your major, art and the world in general? 
JB: Immediately I think of Lisa Kay [program head of Art Therapy]. She's guided me every step of the way through the program, and she was even the one who encouraged me to apply for the position of Tyler's Class of 2020 Commencement Speaker [Note: Temple University's Commencement has been postponed due to COVID-19]. I wouldn't have done this without her.
PC: As part of the Art Therapy Program, you also take classes in the studio art majors. What was your favorite studio experience?
JB: Last semester I took oil painting with Susan Moore. She was such a joy to work with! Our first day, she told us, "Okay, we're going to do an abstract painting, no pressure." You would get into this groove, and then out of nowhere, she would ask to take the tool out of your hand, and proceed to add to it herself! Though it caught us all by surprise, I believe she pushed us out of our comfort zone. It helped me realize that art, especially in a classroom setting, does not always need to be so controlled. It can still be fun and explorative without the pressure of making something "perfect." I regret not taking more classes in Painting earlier in my time at Tyler because of that.
PC: When I was a student, I had friends in my major and many outside of it too. Do you feel like you got to interact with the rest of Tyler?
JB: Absolutely, my best friend Emily Doerflien, she's in Glass. I'd say I have some amazing friends in every single department such as Phoebe Witmer in Photography or Adrienne Hess in Art History. Then there are people in my own major such as Phoebe Reese, who has been my rock throughout the entire Art Therapy program. I feel like Tyler just does such a good job of incorporating different opportunities and programs to meet other people outside of your major, and I think that's something that all Tyler students can say. 
PC: Tyler's community, at least for me, was not only vital to my experience here but also opportunities post-grad. What was it like for you?
JB: I've had my trials and errors in finding my place in the art world. I will actually be attending the Philadelphia College of Osteopathic Medicine to pursue my MS in School Psychology because of professors like Dr. Kay who reminded me that I can always incorporate art into other career paths—you don't have to specifically pursue an arts-based career just to keep art in your life. 
PC: What's one message you'd give to upcoming seniors, the future class of 2021?
JB: Go with your gut. Some of my great decisions have come from taking a leap of faith. Don't be afraid to rise up to a challenge!