Back to Blog
May 11, 2023
Tyler 2023 Diploma Project Unveiled at Graduation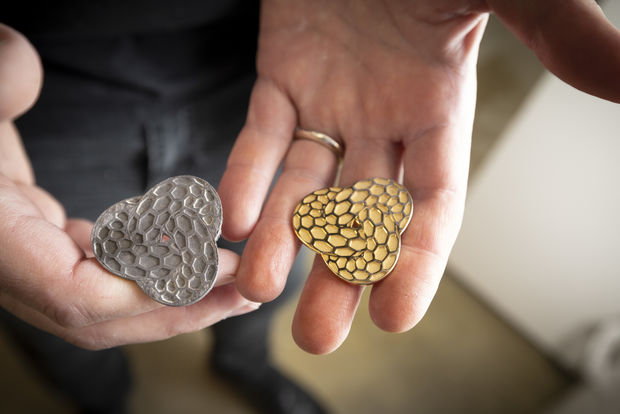 Tyler's 2023 "Diploma Project," a special gift to the graduating class made by a distinguished alum, is a one-of-a-kind cast pin to celebrate their achievement. 
Since 2019, the Tyler School of Art and Architecture has presented its graduating students with a special class gift: a unique work of art made by one of Tyler's renowned alumni — a tradition that connects two generations of creatives. 
This year, Doug Bucci (MFA '98), Assistant Professor and Program Head of Metals/Jewelry/CAD-CAM — in collaboration with Tyler MJCC students Laura Adams (BFA '24), Candice Benton (BFA '23), Alexis M. Devlin (BFA '24), Madeline Kelly (BFA '23), Samantha Torban (BFA '23), Theophilus Annor (MFA '24), and Guannan (Corina) Wang (MFA '23) — created a cast pin to reflect creative expression, personal achievement, and scholarly innovation. The pin's design features an interwoven knot, which symbolizes the connectedness of Tyler alums past, present, and future. The hexagonal honeycomb motif embodies Bucci's family history with diabetes, translating his genetic profile in the patterning as a personal offering from the artist.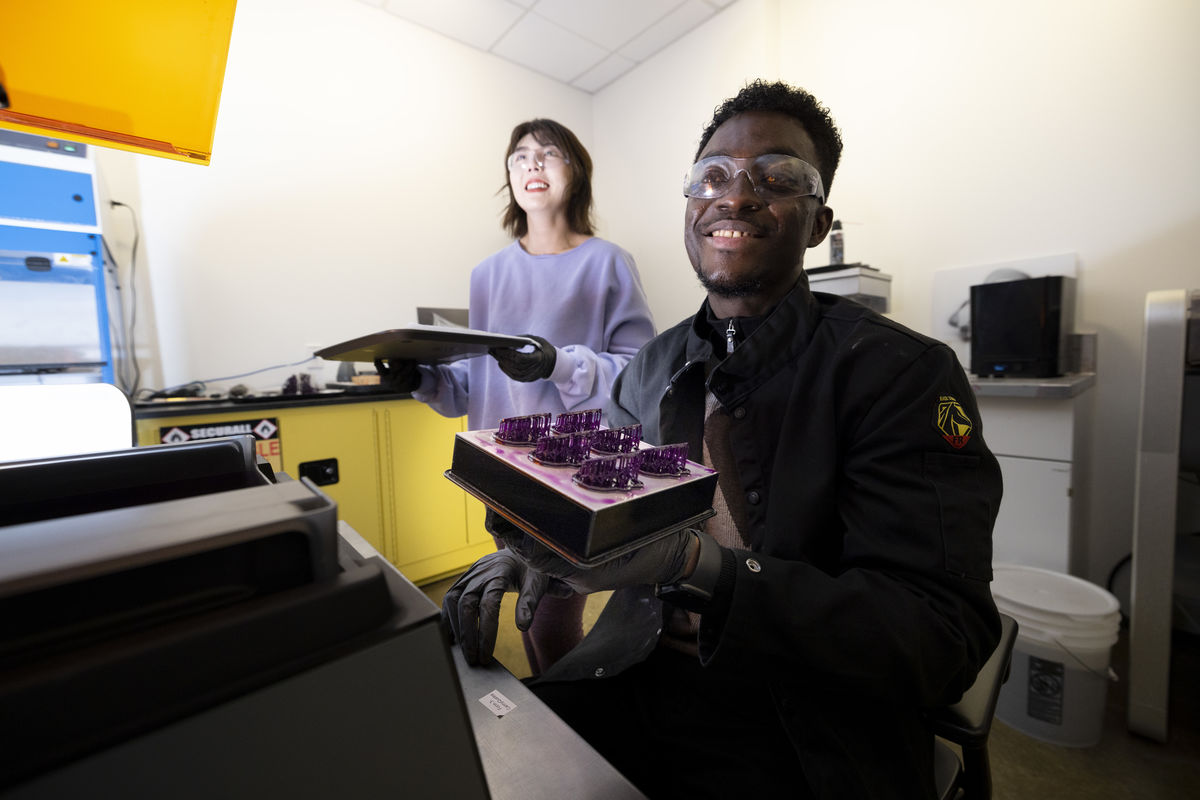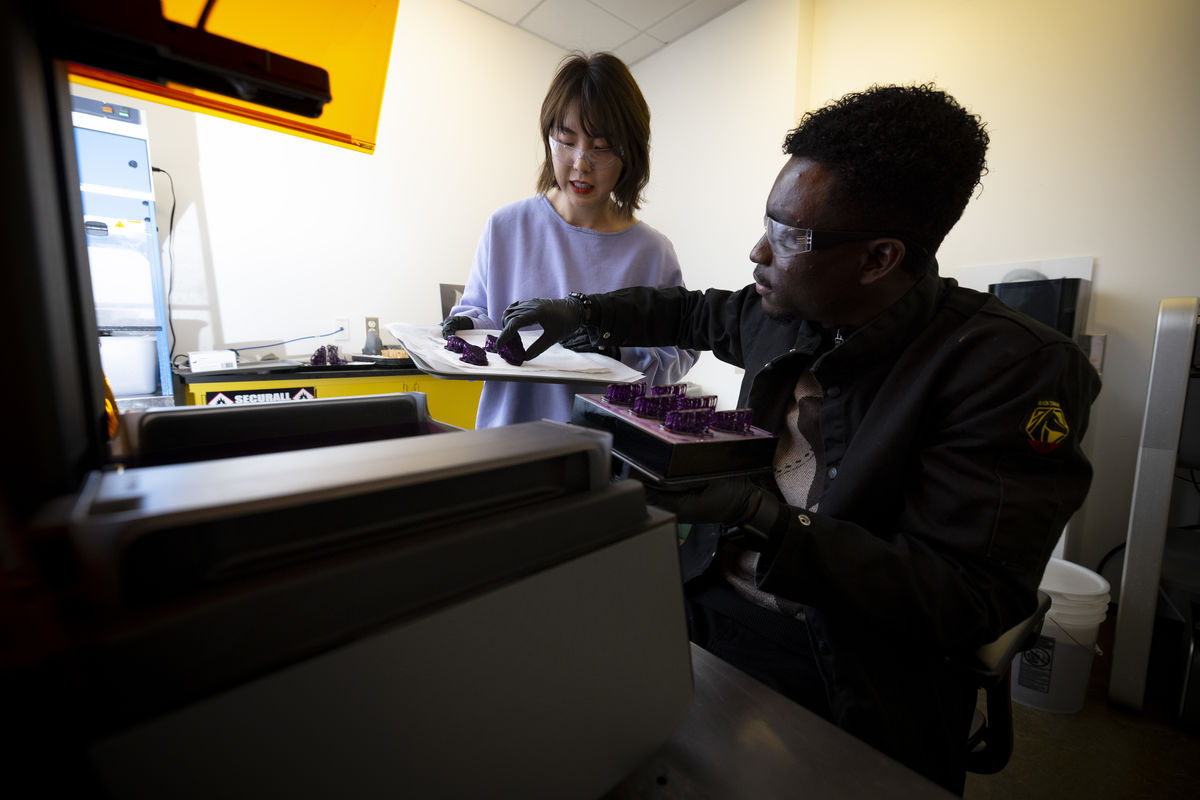 The MJCC graduate students, Theophilus Annor and Guannan Corina Wang are unloading and examining pin-shaped 3D-printed wax models.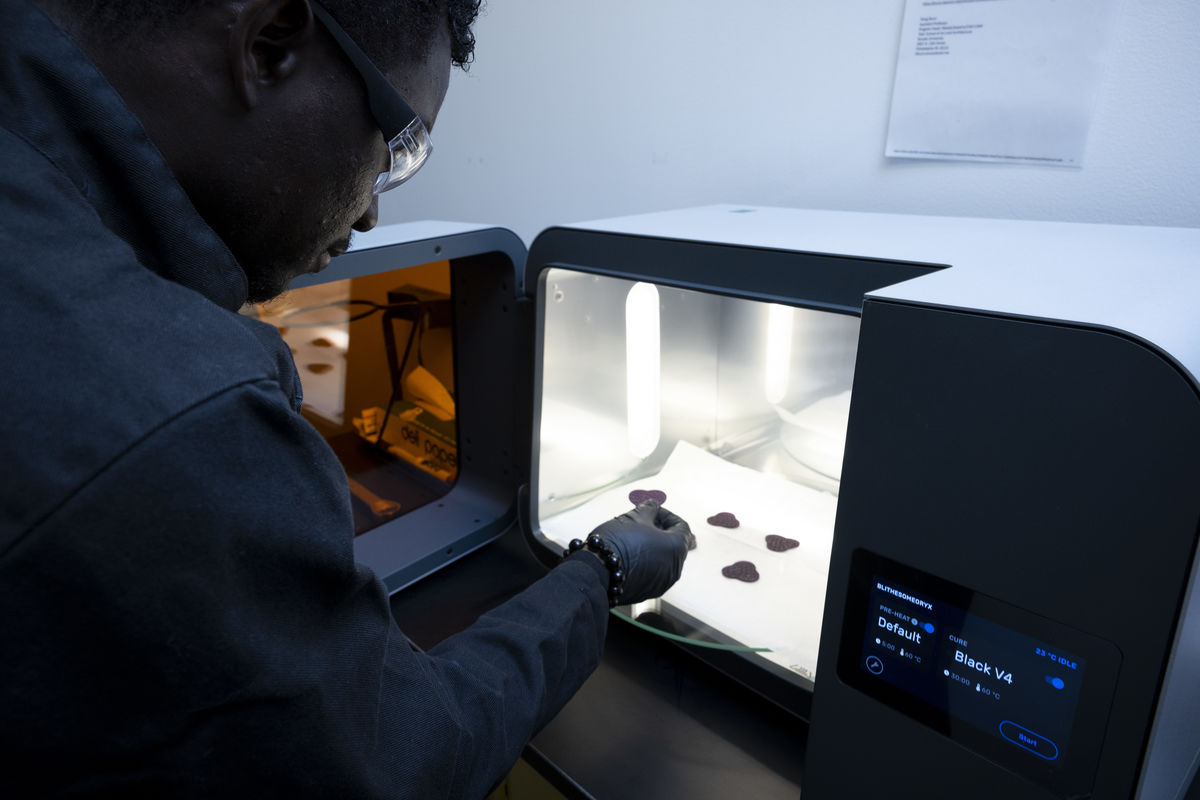 They then remove the support structures that attach the wax models to the 3D printer's bed and cure the parts to prepare them for lost wax casting.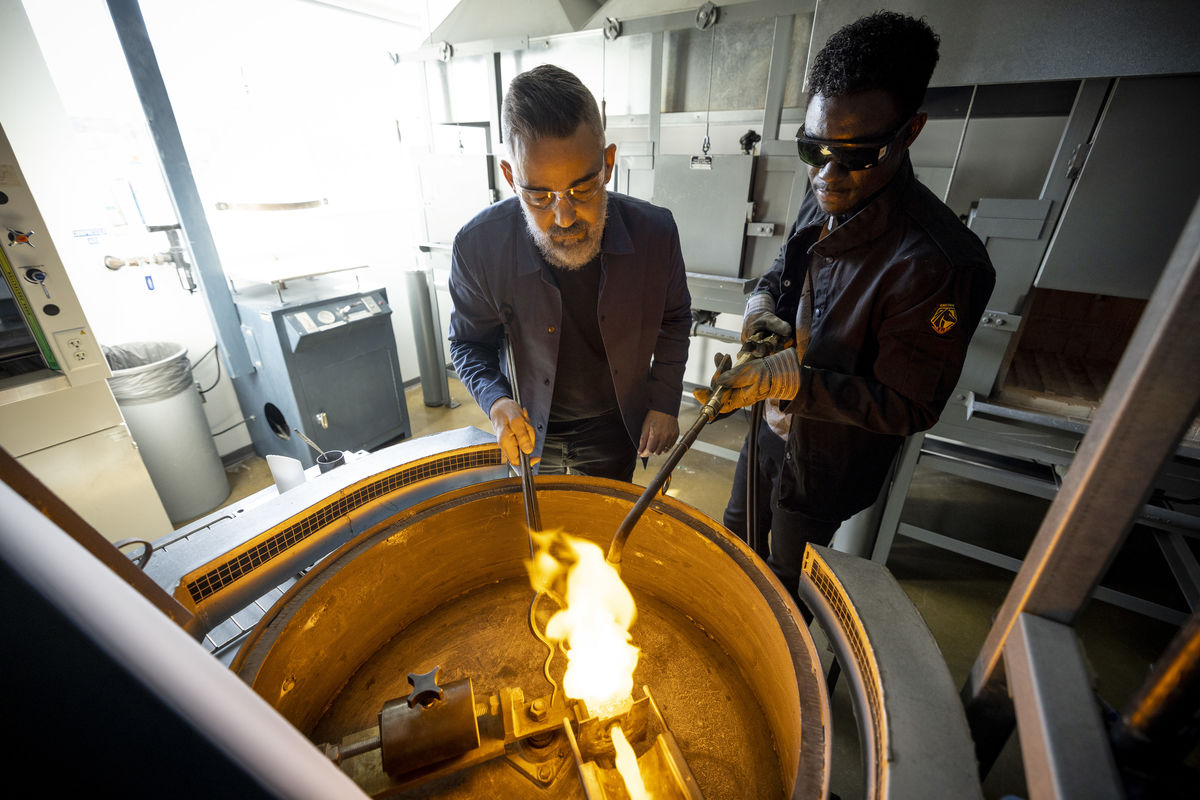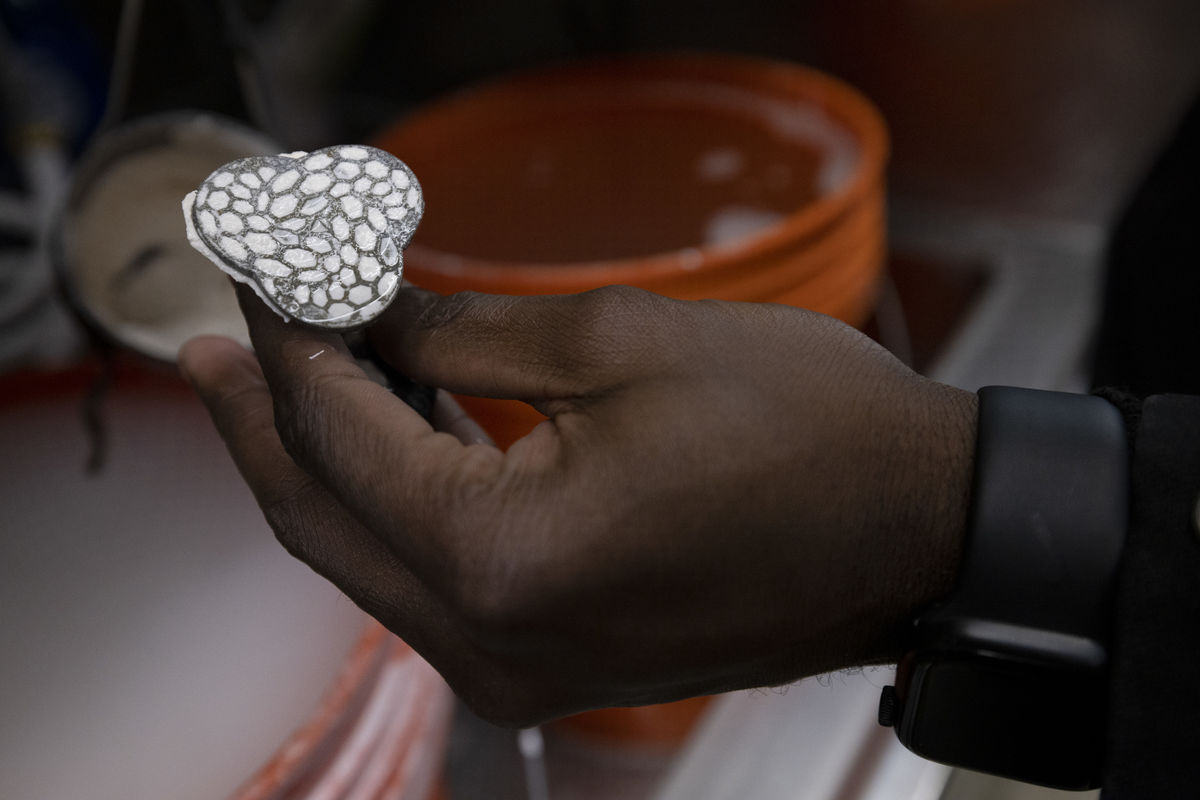 Theophilus Annor and Professor Doug Bucci collaborate to melt the metal in a crucible. They plan to inject the molten metal into a negative investment (plaster) cavity created by the space previously occupied by the wax model by spinning the centrifugal casting machine.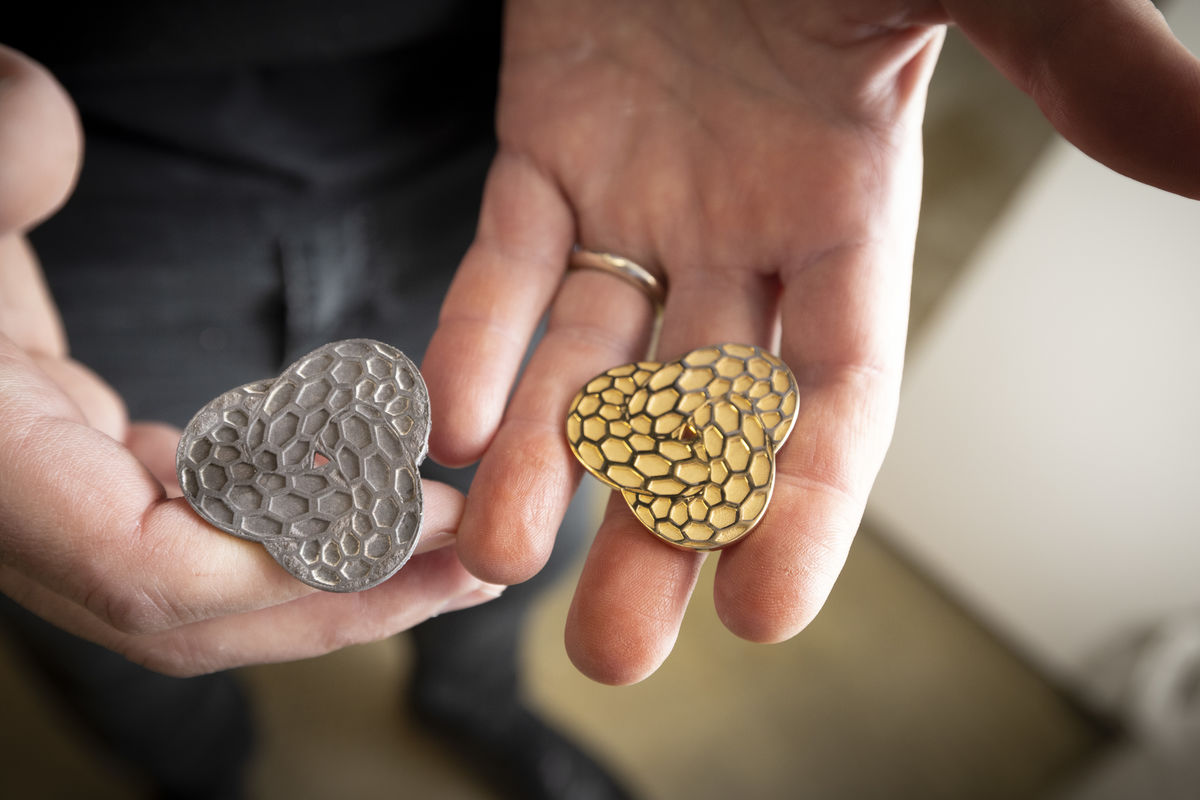 The investment (plaster) is submerged in water at room temperature to uncover the finished casting, a process known as quenching, then brushed off and polished for the final reveal.
In the Diploma Project's first year, the Class of 2019 received a limited-edition print designed by Edgar Heap of Birds (MFA '79) in collaboration with Tyler Printmaking students. In 2020, Polly Apfelbaum (BFA '78), in collaboration with Fibers & Material Studies students, created cozy, hand-crafted winter hats, each topped with a gigantic white pom-pom. In 2021, feminist media artist Angela Washko (BFA '09) created a digital, social practice performance called "Always On," to reflect the technology-reliant year that students faced during the pandemic. In 2022, multimedia visual artist Virgil Marti (MFA '90) created an owl-shaped decanter with Tyler's Glass program.
Images: Dan Z. Johnson Photography