Soso Capaldi (MFA 23), The White Whale (2020-2021). Ink, colored pencil, graphite. 31 inches x 45 inches.
2023 MFA Thesis Shows Explore Time, Space, and Connection
March 9, 2023 -- The Tyler School of Art and Architecture at Temple University opens its 2023 MFA Thesis Exhibitions (March 15-May 6) with a series of group shows by 32 students exploring themes of temporality, location and space, symbols, ritual and social relations, and the connection of parts to a whole.
Collectively, their works represent diverse, discrete disciplines as well as amalgamation of practices, featuring glass, fibers, printmaking, digital images, mixed-media, painting and more. In many pieces, the students allude to the urgent need to address impending global reckonings and how they might affect change through their work.
"I am heartened by the integrity and generosity of this class in the face of the challenges that face society. They are serious in their commitment to shaping a better world through their work," said Associate Dean and Graduate Studies Director Chad Curtis.
Tyler's annual MFA Thesis shows, the culmination of two years of intensive artistic and critical development, exhibit the breadth of artistic possibilities in its MFA program as well as the intersectionality of studio practice and academics. Students showcase their work in groups at Temple Contemporary, the school's center for exhibitions and public programs.
When they graduate, Tyler's MFA Class of 2023 will join a community of distinguished alumni that includes Moe Brooker (BFA '70, MFA '72); Edgar Heap of Birds (MFA '79); Harriete Estel Berman (MFA '80); Virgil Marti (MFA '90); Anoka Faruqee (MFA '97); Trenton Doyle Hancock (MFA '00); Will Villalongo (MFA '01); Erin Riley (MFA '09); Amber Cowan (MFA '11) and Kara Springer (MFA '17), among others.
The MFA Thesis Exhibitions schedule is as follows:
March 15 – 18: Elicia Epstein, Benjamin Fedosky, Kedrick McKenzie, Ethan Storms
March 22 – 25: Emily Friesen, Halo Lahnert, Sofia Macht, Sean M. Starowitz
March 29 – April 1: Olivia Fredericks, Ally Kotarsky, Amira Pualwan
April 5 – 8: Christen Baker, Zoraye Cyrus, Brynn Hurlstone
April 12 – 15: Miriam Angeles Arrey, Soso Capaldi, Jiseon Min, Rita Scheer
April 19 – 22: Sasha Budayv (Я), Maddy Fratarcangelo, Jordan Hill, Bethany Riley
April 26 – 29: Patricia Kalidonis, Jason McDonald, Paolo Mentasti, Guannan Wang (Corina)
May 3 – 6: Evan Bailey, Chad Xuyuan Hu, Julia Malak, Cayarah Pyle, Meryl Skoog, Yongxin Wen
Location: Temple Contemporary, 2001 N. 13th St. Philadelphia, PA 19122
Opening Receptions: Fridays, 6–8 p.m. March 17–May 5, 2023 
Gallery Hours: Wednesday and Thursday, 12–8 p.m. Friday and Saturday, 11 a.m.–6 p.m.
Details regarding upcoming shows are announced on Tyler's Events Calendar.
View past MFA Thesis Exhibitions on STELLA, Tyler's virtual satellite gallery. 

Idalia Vásquez-Achury (MFA 22), Thesis exhibition installation view, Marisma (2022). Photo: Neighboring States
MFA Group Exhibitions
In addition to their thesis presentations, MFA students at Tyler have the opportunity to curate and organize off-site group exhibitions at Atelier Art Gallery in Philadelphia's Brewerytown neighborhood. Everything Must Go, an exhibition of 2020 and 2021 MFA Graduates, spoke to the collective urgency of closures and potential beginnings during uncertain times. Thankfully, a Clever Snare, an exhibition of 2022 MFA Graduates, engaged a sense of entanglement or capture––the feeling of being caught between many worlds.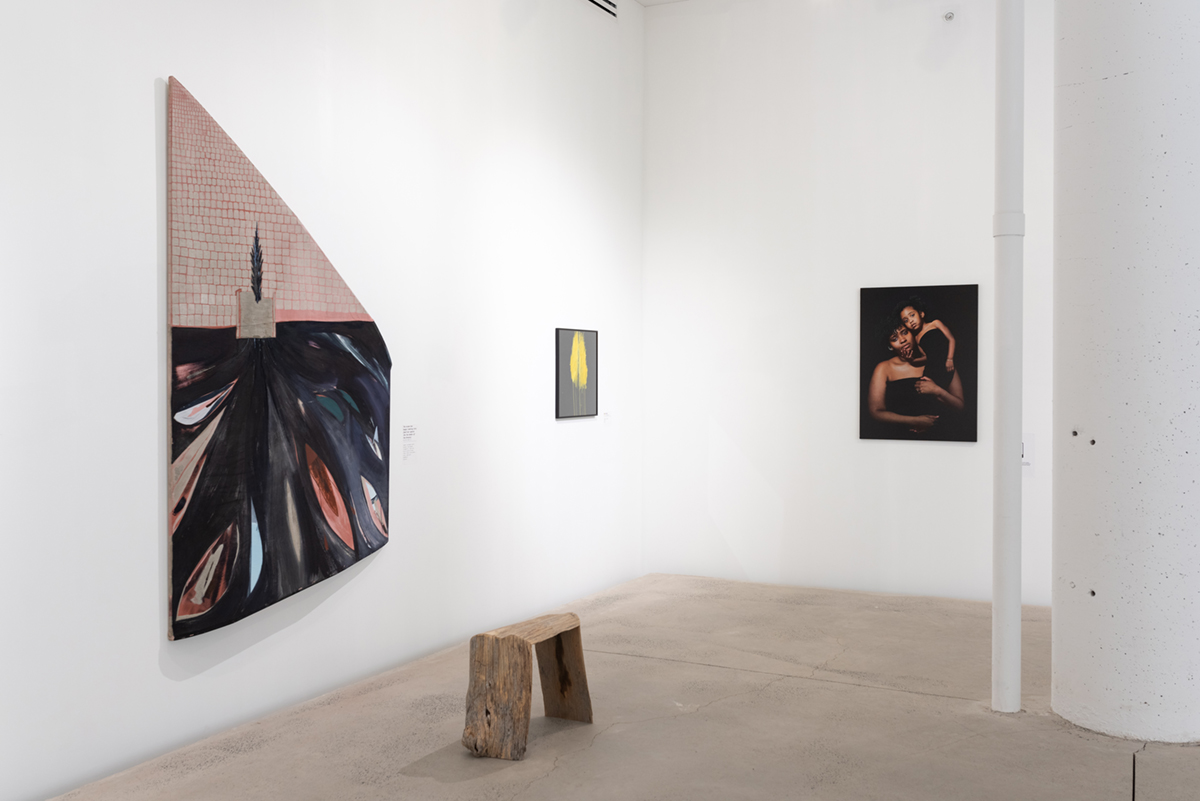 Everything Must Go, Installation view, Austen Camille, Ossie Jon-Nwakalo, and Hazzia Q. Abdullah. Photo by Bridget K. Rogers.