THESIS EXHIBITION: May 3 - 6
Opening Reception: May 5, 6 - 8pm
---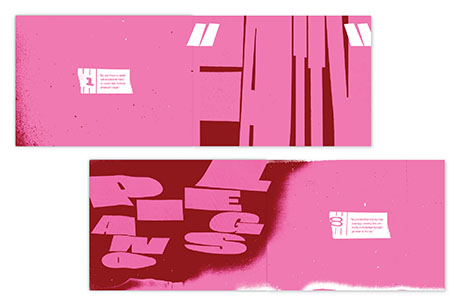 Remarks explores personal comments made about an individual's physical appearance through expressive typography and distortion. This zine presents a collection of anonymous survey responses from people about the time they received a comment about their body that changed their view of themselves. These comments vary in different shapes and sizes, but still have one common denominator–they were all received from loved ones. As many can relate and the reasoning behind this project, my struggle with body image originated from comments made to me as young as a child and still linger in my subconscious to this day. Confronting the issue of body image will always remain a topic of discussion in society and dissecting it in the unique context of zine making the desired path I decided to take. As this project's prompt was about measurement, I decided to not make this about people being "too big" or "too small", but to see the way comments dictate how we value ourselves. It is less about the physical aspect of our bodies and more about the mental wellbeing of ourselves. 
Lantern Entheogenics is a psychotherapeutic company that distributes specialized medication to licensed therapists for their patients struggling with mental health. Research shows LSD, MDMA, and psilocybin have substantial health benefits that Lantern offers through their products. With this, they offer a micro dosing subscription that allows customers to individualize their own prescription to fit their needs. Patients are able to apply for this medication through their therapist while also having the option to experience a guided psychedelic experience during a therapy session.  
---
Artist Statement  
When it comes to design, I enjoy exploring branding and typography as exciting, tangible forms for user experience and visual communication. Learning about how people interact with various physical and digital platforms that exist in our world today inspires me to create inclusive spaces for everyone. I strive to use curiosity and collaboration as two crucial ways to achieve this goal and design to build community. 
More information about Meryl Skoog available at merylskoog.com
All photos credited to the artist.