THESIS EXHIBITION: March 29 - April 1
Opening Reception: March 31, 6 - 8pm
---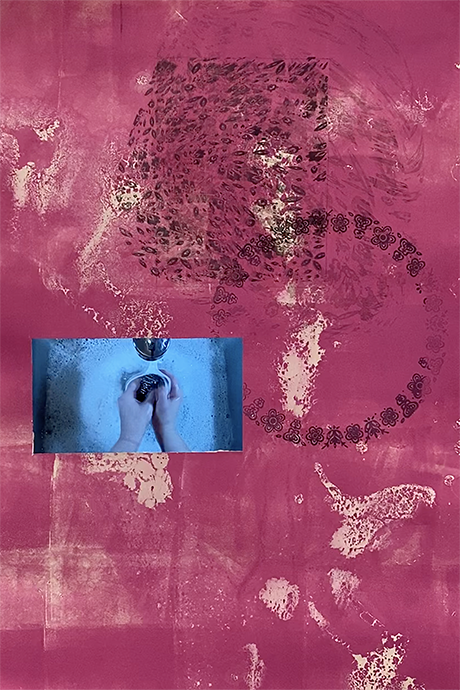 Dishwashing, 2022, monotype, video monitor, soap, steel wool, variable dimensions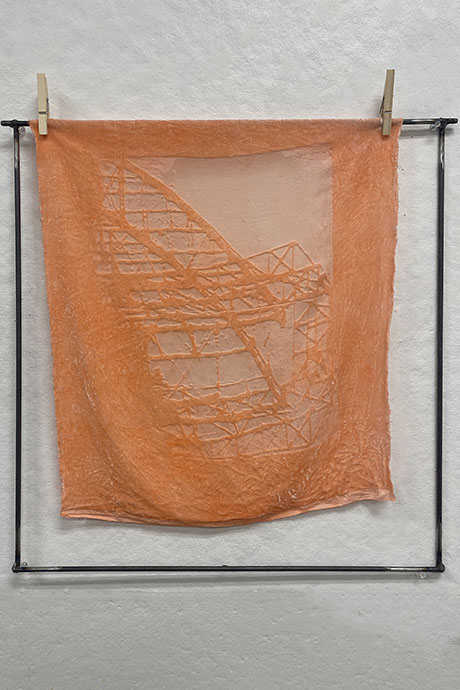 Soft Steel, Velvet Heat (detail), 2022, velvet burnout, steel rod, clothes pins, variable dimensions
---
Artist Statement
Through the language of printmaking, my practice explores the movement of time and the flaws of memory as they manifest within my own auto-ethnographic studies of family narratives. Considering how a print functions as a Multiple, I seek connections between the physical repetition of process and the action of repeating a memory. The accidental and purposeful interruptions that I create separate prints from the same original image. This process mirrors many of the ways in which a memory is never recalled the same way twice. Imagery is sourced from a combination of my family archive and records of my own daily actions of repetition. These repetitious acts manifest in the daily activities of maintaining a home, such as doing laundry, washing dishes, or making the bed. Intertwined with this research is a consideration of gender, reflecting the history of matrilineal lines, the feminine role of family arbiter, and the ways in which I accept and reject those roles.  By animating unique prints and monotypes, I am introducing prints as a time-based media, simultaneously capturing the repetition in creating the objects and the separations between each frame. Through the collective display of moving and still images, I invite the viewer to consider both the haptic and visceral experience of recollection. 
More information about Ally Kotarsky available at allysonkotarsky@gmail.com
All photos credited to the artist.