THESIS EXHIBITION: April 5 - 8 
Opening Reception: April 7, 6 - 8pm
---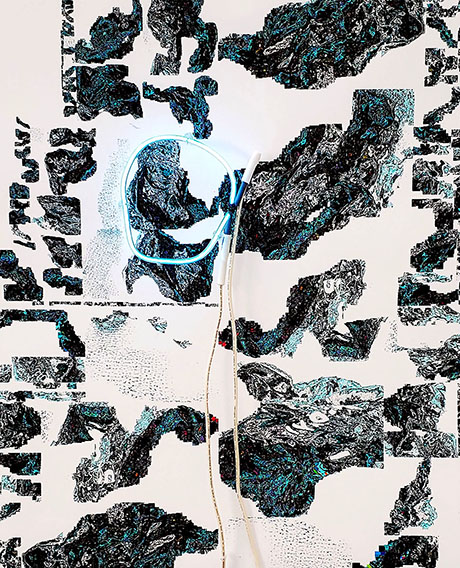 HDPE_O_, 2022, Inkjet print, glass tube, noble gas, electrical current, 36"x48"x6"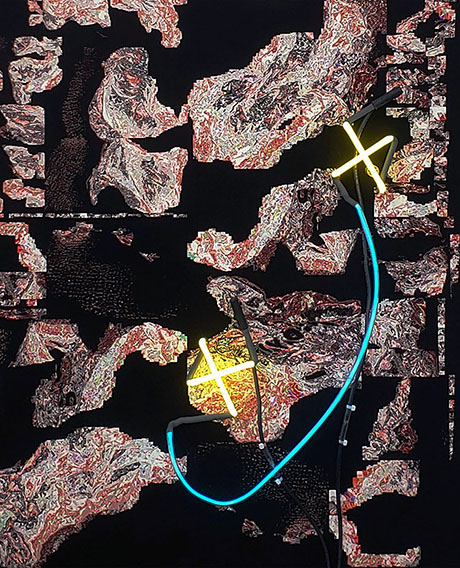 HDPE X_X, 2022, Inkjet print, glass tube, noble gas, electrical current, 36x48x6"
---
Artist Statement
My work grasps for an abstract, indescribable feeling, a space where intuition and observations collide. I create glass objects and print ephemera that critically assess the ways that attention and desire become an economy. The cosmic and metaphysical aggregation of shared spaces within urban built environments are used as a catalyst for dissonance and disambiguation. This results in questioning the distortions of perception, as it relates to the structures of socio-economic class and cultural conditioning. These distortions are perpetually indirect, quiet, and subversive. Hiding in plain sight. The spatial ecosystem, object phenomenon, and social network of urban infrastructures become spaces made visible. I extract information and graphics from these areas, and layer their physical attributes as new objects, images and text. A full gamut of real and imagined spaces that call attention to the systems that sustain indifference. Mapping logic through the formal distillation of daily living and objecthood presents the crucial nuances of value, speed, and acceleration.  Glass and light are materials of necessity, complacency, survival and scarcity that communicate multiple histories of perceptual sight. They are indices of the progression of radical self-awareness. 
All photos credited to the artist.