THESIS EXHIBITION: April 12 - 15
Opening Reception: April 14, 6 - 8pm
---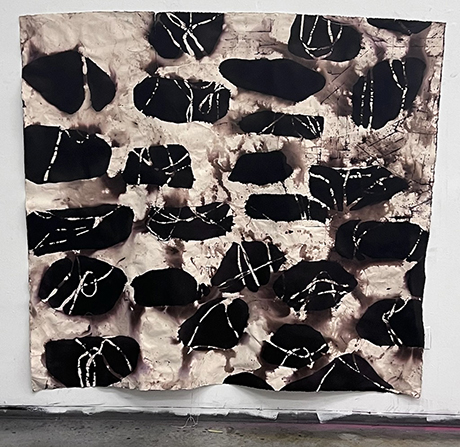 The Sea of Holes, 2022, reactive dye and duct tape on canvas, 60" x 72" 
Two-mouthed Miner (detail), 2022, graphite on paper 
---
Artist Statement 
My work attests to the existence of a place within and without the world(s) we recognize in ourselves and our surroundings. Ineffable gaps, ambiguities, confusions, and hopeless predicaments materialize as impossible knots, holes, webs, and inhabitants (or maybe apparitions) drawn from memories and lost/reconstituted family history. These materializations provide the opportunity to untangle, excavate, unwind, rewind, bury, foretell, forget, find a path forward or back. 
All photos credited to the artist.