THESIS EXHIBITION: April 26 - 29
Opening Reception: April 28, 6 - 8pm
---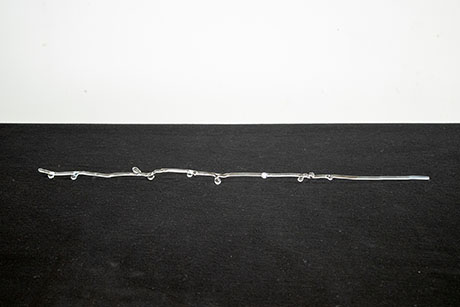 Title: Fossilized pussy willow in full bud plucked at Swan Island, Maine on Jan 31, 1906 Year: 2023 Medium: Glass Dimensions: 22x1x1 inches Description: This pussy willow was framed by the American Ice Company to attest to the bad business conditions.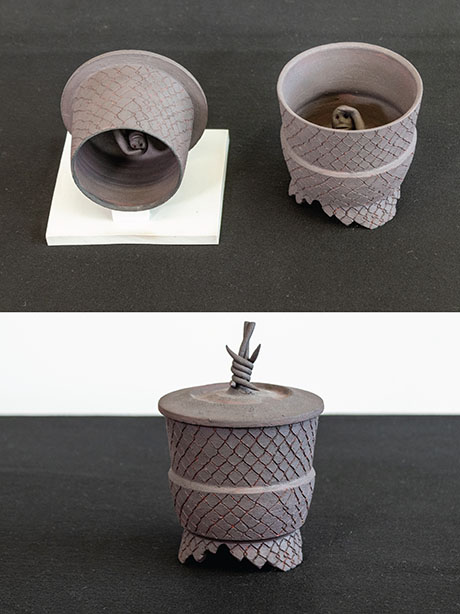 Title: Forced Separation: Tripod Vessel with looking figures Year: 2022 Medium: Ceramic, Oxide; Earthenware, Red Iron Wash Dimensions: 7 x 5.5 x 5.5 inches Description: Forgery of a cup in the Museo Amparo; a missing or nonexistent lid was also forged. 
---
Artist Statement  
As an artist, I have set out to examine the untimeliness of contemporary life. I borrow archaeology as a method to enter the present and the future. I work as a forger of a proleptic archaeological record composed of artifacts, traces, and tools produced for interpretation. Using ceramics, I cite the past and present, invoke the future, and dress fictions in the cloak of history. The record I am forging is for me to perceive my own time by materializing a future in which the contemporary will have been available and examined: archaic vessels that will have contained the pigmentary remains of a current invasive species; measuring sticks forgotten at various sites that will have been interpreted as sacrificial offerings. These objects mix references from different cultures, times, and locations, referencing the blurring of distinctions between the sacred and profane achieved by museum displays, and in resonance with the peripatetic unsettledness of my own life. The ceramics I produce are artifacts-to-be that will be interpreted in ways I fail to imagine. Instead of attempting to settle the out-of-place and the out-of-time, this project extends them, offering the future to itself. 
All phots credited to the artist.