THESIS EXHIBITION: April 26 - 29
Opening Reception: April 28, 6 - 8pm
---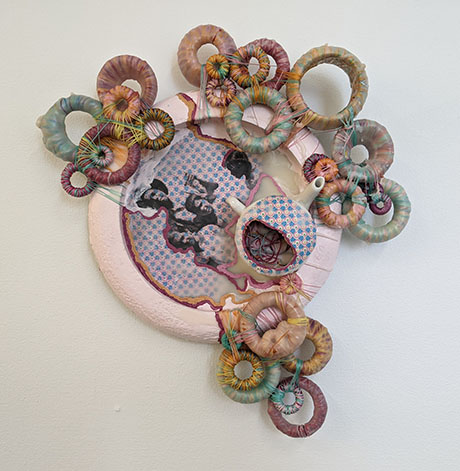 Object of Care No. 3 | 2022 | Wood, Fabric, Encaustic, Oil Paint, Waxed Thread, and Porcelain Feeder Cup | 20 by 16 by 4 inches | Image Alt Text: A small sculptural mixed media painting of colorful, tangled lines, patterns, and images. About the size of a porthole window, the focal point of the art is the image of the group of children inside a wax covered wooden frame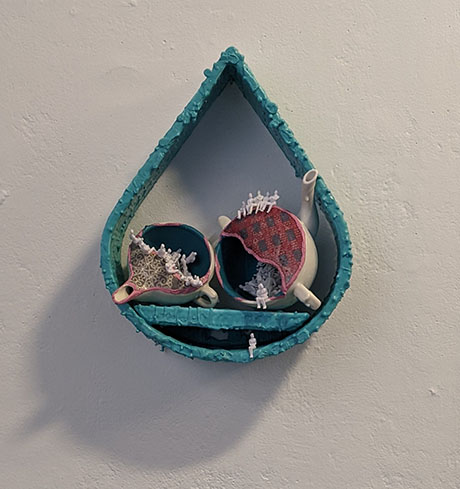 Confluence | 2022 | Wood, Fabric, Encaustic, Miniature Plastic People, and Porcelain Feeder Cups | 19 by 16 by 3 inches | Image Alt Text: Inside a teardrop-shaped frame covered in aquamarine encaustic wax, two ceramic invalid feeder cups give shelter to a community a miniature plastic people. 
---
Artist Statement  
I paint using abstracted, layered imagery as a way to express my lived experience as a Disabled, neurodivergent woman. Heightened sensitivity to sensory input creates a cacophonous world. And while many others think in some form of language-based monologue, my thoughts are instead a continuous stream of images. Overlapping, colorful forms and figures in my work reflect my thought processes and sensorial experiences. 
I examine subjects such as social connectedness, family bonds, isolation, and solitude through the lenses of neurodivergence and Disability culture. I use personal experiences with estrangement, loss, recovery, and resilience to investigate the importance of community and social support systems. Through the integration and manipulation of found photos, I excavate the history and contemporary experience of my "Horizontal Identity" - a term coined by writer Andrew Solomon to describe when "someone has 
an inherent or acquired trait that is foreign to [their] parents and must therefore acquire identity from a peer group." 
As my art practice develops, I'm also exploring the use of Universal Design Principles and Disability Justice frameworks and to develop creative accessible presentations of my work and to interrogate societal biases around "normative" bodies and forms of communication. 
More information about Patricia Kalidonis available at PatriciaKalidonis.com
All photos credited to the artist.